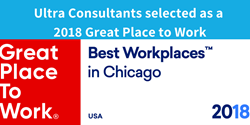 At Ultra, we are keenly aware of the benefits of a collaborative and value-driven organization that is truly a best place to work
CHICAGO (PRWEB) June 05, 2018
Great Place to Work and FORTUNE have honored Ultra Consultants as one of the 2018 Best Workplaces in Chicago. The ranking considered more than 11,000 employee surveys from companies across the Windy City.
The Great Place to Work program evaluated more than 50 elements of team members' experiences on the job. These included employee pride in the organization's community impact, belief that their work makes a difference, and feeling their work has special meaning.
Ultra is recognized throughout the industry as a top tier consulting organization which guides manufacturing and distribution companies to realize benefits through business performance improvement and enterprise technology solutions.
"At Ultra, we are keenly aware of the benefits of a collaborative and value-driven organization that is truly a best place to work," stated Ultra Consultants CEO and Founder, Jeff Carr. "I am proud to be recognized by Great Place to Work as this award provides a testament of our great employees who enjoy what they are doing while working hard and delivering tangible value for our clients in an exemplary fashion."
Ultra Consultants, while headquartered in Chicago, employs a high-performance team throughout the United States. In addition to offering a progressive career path, the company was recognized for employee engagement initiatives that foster a positive and collaborative work environment.
Highlights include:

Ultra's employee wellness program entitled Ultra Steps, which encourages physical activity and exercise coupled with the fun of competitive camaraderie.
A company-wide, peer-to-peer recognition program entitled Ultra Applause, which is a platform for employees to share appreciation for going above and beyond to help others be successful.
The Ultra Gives Back program was also cited as a key initiative and one we are most proud of – each month, a team member presents an overview of a charity or non-profit organization in which they are involved within their community. This awareness provides inspiration for our team members to make a financial contribution to the worthy cause – in turn, the company provides matching funds in support of the programs that are important to our employees.
Among the many benefits, the company offers employees a comprehensive healthcare plan, 401K retirement investments, flexible vacation policy, and professional development opportunities.
The Best Workplaces in Chicago is one of a series of rankings by Great Place to Work and FORTUNE based on employee feedback from Great Place to Work-Certified™ organizations.
About Ultra Consultants
Ultra Consultants is an independent research and enterprise solutions consulting firm serving the manufacturing and distribution industries throughout North America, as well as companies with global operations. Since 1994, Ultra has delivered enterprise technology expertise and best practice process management to drive business performance improvement for our clients. More information on the company's services, leadership, industry verticals served, and enterprise technology vendor relationships can be found at http://www.ultraconsultants.com.
About Great Place to Work
Great Place to Work certification program recognizes outstanding workplace cultures and produces the annual Fortune "100 Best Companies to Work For®" and Great Place to Work Best Workplaces lists for Millennials, Women, Diversity, Small & Medium Companies, industries and, internationally, countries and regions.