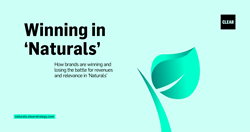 The 'Winning in Naturals' study demonstrates that brands that establish their natural credentials across the customer experience can tap in to a more affluent, more engaged audience who are willing to pay more for the all-natural experience.
LONDON (PRWEB) June 05, 2018
Global marketing strategy and transformation business CLEAR (https://clearstrategy.com) today announced the findings of the inaugural 'Winning in Naturals' study. Across the three markets covered, leading whole grain cereals and plant-based foods manufacturer Kashi topped the ranking of most natural brands as defined by consumers. In the UK, Green & Black's, the premium ethically sourced chocolate brand, led the way, whilst international whisky brands dominated in the Chinese market. The study, based on an online survey of more than 3000 consumers across the US, UK and China, ranks 470 brands across 12 categories based on their perceived naturalness.
SOME OF THE KEY FINDINGS OF THE REPORT INCLUDE:

Natural is valuable: 52% of consumers will pay more for natural products
Artificial is over: 65% of consumers are worried about artificial ingredients and their negative effects
Natural feels safe: 72% of women believe natural products are safer for them and their families
Natural means quality: 66% of consumers believe natural products are better quality
"The 'Winning in Naturals' study demonstrates that consumers really do care about how natural the products they eat, drink, wash and clean with are," says Damian Symons, Global CEO at CLEAR. "Brands that establish their natural credentials across the customer experience can tap in to a more affluent, more engaged audience who are willing to pay more for the all-natural experience. But authenticity matters – this audience is more informed, more engaged and more cynical than ever – so it's no longer enough to be non-GMO or have some natural ingredients – to win in naturals, brands need to commit across every touchpoint."
Winning brands are united by their 'all-in' approach to naturals. They invest beyond the ingredients and communicate clearly and carefully about their production processes, care for the environment, consumer health and their supply chains. They deliver experiences that match the expectations they set in their communications.
The study also highlighted that the sophisticated use of natural cues has become a table stake in mature natural categories like Infant Nutrition in the UK & US and Whisky in China, making differentiation much more difficult. In others, like Coffee and Fizzy Drinks, there are still significant global opportunities for brands to establish strong, differentiated natural credentials – and win new consumers.
HIGHLIGHTS INCLUDE:

Kashi takes the top spot globally and in the US market in this inaugural study – and scores well across the entire spectrum of naturalness – from ingredients to experience, packaging to purpose.
Green & Black's tops our UK ranking – proving that whilst chocolate is an indulgence, consumers still care about its ethics and sourcing. This is despite the brand recently launching its first non-Fairtrade certified Velvet Edition range in November 2017.
Scotch whisky brands dominate the Chinese ranking – with consumers instinctively associating the product with naturalness due to the relative scarcity of key aged bottlings; traditional, ancient production methods and Scotland's own natural heritage.
In the US & UK, naturalness is a non-negotiable requirement for brands operating in Infant Nutrition. Competition is fierce and is driving the best brands in this category to invest heavily in naturals at every level.
The British county of Dorset is a hub for natural brands, with two of the UK top 10 LUSH and Dorset Cereals based in the county.
Independent cereal and snack bar producer Natural Balance Foods have two entries in the UK top 10 – proof that a single-minded approach to sourcing, ingredients, packaging, processes and communications pays off with UK consumers.
69% of Chinese consumers are willing to pay a premium for a completely natural product – they're all-in on naturals.
Portfolio players like Kellogg's and Clorox have made smart acquisitions – with Kashi and Burt's Bees demonstrating that natural is scalable for the mass market.
THE 'WINNING IN NATURALS' TOP 10 BRANDS BY MARKET
US
1. Kashi*
2. Sprout
3. Seventh Generation
4. Burt's Bees
5. The Honest Co.
6. Tiger Balm
7. KIND
8. Health Valley
9. Milk
10. Love Child
UK
1. Green & Black's
2. Nakd Bar
3. Ecover
4. Dorset Cereals
5. Bear Snacks
6. Lush
7. Burt's Bees
8. Glenfiddich
9. The Body Shop
10. Trek
China
1. Glen Garioch
2. Dalmore
3. Nikki Yoichi
4. Port Ellen
5. Nongfu Spring
6. General Mills
7. Suntory Yamazaki
8. Edradour
9. Blue Label
10. Yunnan Baiyao
*Overall global leader in naturals
MOVING BEYOND A LIST OF INGREDIENTS
Everything in balance. What's true in the natural world is true in the world of naturals.
CLEAR has uncovered six cross-category levers that brands can pull to improve their natural perceptions. Whilst ingredients remain a vital driver of natural perceptions, the leading brands are going further - effectively balancing packaging, brand promise, impact on society, production processes and more to create strong natural advantage.
Consumers are keen to understand more about how products are made, where they come from, what they're packaged in and what the brand stands for. It's clear that many brands are not using these levers powerfully enough to unlock natural strategic advantage. Whether naturalness is a hygiene factor in a category or the category has extremes of natural and artificial – it remains crucial to view natural as more than just ingredients – and to use that knowledge to optimise return on marketing investment.
"Our 'Winning in Naturals' study highlights the myopia of some brands when it comes to naturals," says Adam Garrett, CLEAR's new Managing Director, US. "Instead of altering one ingredient in the hope of success – a la Coke Life – brands need to wake up to the fact that consumers care about the how, the where and the who of the brand, as well as the what's in it. Kashi, Nakd, Burt's Bees and the rest of our top performers recognise this – and are reaping the rewards."
To download the full report, visit http://naturals.clearstrategy.com
# # #
ABOUT THE 'WINNING IN NATURALS' REPORT
To determine how brands are winning and losing the battle for revenues and relevance in 'Naturals', CLEAR fielded an online survey with 3,055 respondents in three countries to gather perspectives on natural products and how different categories and brands are perceived from a 'naturalness' perspective. During the study, respondents rated a total of 470 brands.
To determine the Naturalness score for each brand, respondents were asked to rate how natural they considered the brands that they had purchased in the past three months. The scale rated brands from 'extremely unnatural' to 'extremely natural', This was then converted to a numerical value between 1 – 100. CLEAR consultants used input from past surveys, market knowledge and existing third-party research to select a representative set of brands that respondents would be likely to know and purchase, along with some smaller developing brands. Unfortunately, we are unable to report on brands for which we could not collect sufficient responses.
The research was conducted in March & April 2018.
ABOUT CLEAR M&C SAATCHI
CLEAR is a global marketing strategy consultancy that empowers ambitious marketing leaders to achieve transformational business results through the combination of rigorous insight, robust strategy and inspiring creative. This unique combination of skills helps our clients access significant value through category leadership, brand development and creation of more innovative and superior experiences across touchpoints. We believe great strategy is impossible without rigorous insight; in a world filled with unsubstantiated opinions, clarity has never been more powerful.
CLEAR's consultants create transformational brand experiences and marketing strategies that have clear impact on our clients' careers, businesses and categories. Since 2002, we've been delivering transformational strategies for leading businesses, brands and individuals in a diverse array of sectors. We have offices in London, New York, Los Angeles, Dayton, Singapore and Shanghai, but we're willing to fly wherever we're needed.
We bring clarity to our clients' toughest transformation questions. Follow us on Twitter and LinkedIn or learn more at https://clearstrategy.com.
CLEAR is a division of M&C Saatchi, one of the world's leading marketing services groups. The company is headquartered in London, England, with offices throughout the world.
CONTACT:
Geraint Jones
Global Marketing Director, CLEAR
geraint.jones@clearstrategy.com
+44 (0) 203 735 1810
+44 (0) 738 741 1314
SOURCE: CLEAR
RELATED LINKS:
http://Naturals.clearstrategy.com
https://Clearstrategy.com
# # #
ENDS