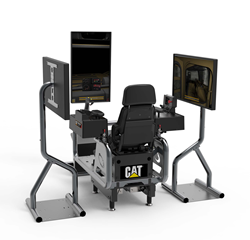 PEORIA, Ill. (PRWEB) June 05, 2018
Simformotion™ LLC – a leader in heavy equipment simulator training solutions – is proud to announce the release of the new Cat® Underground Load-Haul-Dump Simulator System.
Operating large equipment in dark confined spaces is challenging. Trained operators make a difference in hitting production targets and avoiding accidents. The LHD Simulator combines authentic controls with machine applications that teach operators the same techniques found in underground mine sites worldwide. The system offers a unique three-monitor configuration, allowing the operator to view from the left, right and front. The addition of a motion system creates a total training experience with vibration and movement as the simulated machine interacts with the terrain.
"Mining is going strong again and companies need trained operators. Cat Simulators new Underground LHD addresses the need with safe, efficient training that is always consistent," says Vice President Renee Gorrell. "We develop our simulators with Caterpillar subject matter experts so every technique is the same as the applications performed in underground mines around the world."
The Underground LHD Simulator includes exercises that teach how to perform a Walkaround for safety and maintenance, Controls Familiarization, System Tests, Bucket Placement, Driving, Truck Loading, and Dumping into a Crusher. Plus, Open Training in each exercise offers opportunities for additional practice and skill refinement.
Exclusive to Cat Simulators is SimU Campus™ Training Records Management, software that measures, records and reports the results of all simulation sessions. Hundreds of benchmarks based on Caterpillar expert data are included, with user performance measured against the benchmarks and outcomes recorded to a database.
In addition to the new Underground LHD Simulator, Cat Simulators are available in Mining Dozer, Mining Truck, Off-Highway Truck, Electric Rope Shovel, Small and Large Wheel Loaders, Hydraulic Excavator, Advanced Construction Excavator, Articulated Truck, M-Series Motor Grader, Construction Dozer, FM Log Loader and Track Feller Buncher.
Visit http://www.catsimulators.com for information on Cat Simulators Underground LHD system.
About Simformotion™ LLC
Simformotion™ LLC is a leader in heavy equipment simulator training solutions. Cat® heavy equipment simulators deliver dynamic training technology and outstanding safety results through the power of state-of-the-art virtual training. Simulation can help address initiatives such as safety and production; while ensuring training can be delivered anytime day or night, regardless of weather conditions. Cat Simulators are chosen as training solutions in such markets as mining, construction, forestry, government, and trade and vocational schools. Simformotion™ LLC is a licensee of Caterpillar Inc. As used herein, "Simformotion" means Simformotion™ LLC, a Delaware limited liability company.
http://www.catsimulators.com
© 2018 Caterpillar. All Rights Reserved. CAT, CATERPILLAR, BUILT FOR IT their respective logos, "Caterpillar Yellow," and the "Power Edge" trade dress, as well as corporate and product identity used herein, are trademarks of Caterpillar and may not be used without permission. http://www.cat.com / http://www.caterpillar.com Third party trademarks are the property of their respective owners.