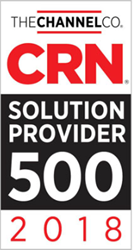 "...PCNation is honored to be included on this list of top solution providers for the 3rd year in a row."
NORTHFIELD, Ill. (PRWEB) June 05, 2018
PCNation announced today that CRN®, a brand of The Channel Company, has named PCNation to its 2018 Solution Provider 500 list. The Solution Provider 500 is CRN's annual ranking of the largest technology integrators, solution providers and IT consultants in North America by revenue.
The Solution Provider 500 is CRN's predominant channel partner award list, serving as the industry standard for recognition of the most successful solution provider companies in the channel since 1995.
"With the technology landscape changing so quickly, it's important for organizations to partner with a solution provider that has a long history of delivering advanced technology solutions from the leading vendors in the industry," says Medwin Dayan, President, PCNation. "The CRN Solution Provider 500 is a widely recognized compilation of the largest and most capable solution providers nationwide. PCNation is honored to be included on this list of top solution providers for the 3rd year in a row."
"CRN's Solution Provider 500 list spotlights the North American IT channel partner organizations that have earned the highest revenue over the past year, providing a valuable resource to vendors looking for top solution providers to partner with," said Bob Skelley, CEO of The Channel Company. "…We extend our sincerest congratulations to each of these top-performing solution providers and look forward to their future pursuits and successes."
Follow PCNation on LinkedIn, Facebook
About PCNation
PCNation continues its 22-year standard of excellence as a leading value-added reseller (VAR) of a wide range of technology solutions including data center, cloud, managed services, mobility, and more. Since 1996, PCNation has provided over 100,000+ corporate, educational and government clientele with technology solutions that enable organizations to meet their complex technology needs. PCNation considers a customer-centric culture to be one of the primary reasons for its outstanding growth and it remains a key pillar of PCNation's core business principals. To learn more about PCNation, visit us @ http://www.pcnation.com.
About the Channel Company
The Channel Company enables breakthrough IT channel performance with our dominant media, engaging events, expert consulting and education, and innovative marketing services and platforms. http://www.thechannelco.com.
To learn more about PCNation, visit us @ http://www.pcnation.com
Follow PCNation on LinkedIn
Like us on Facebook