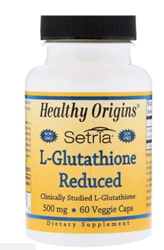 NEW YORK (PRWEB) June 04, 2018
Healthy Origins® now offers its Setria® L-Glutathione Reduced 500 mg daily supplement in veggie caps. That's great news for vegetarians and vegans looking for a powerful antioxidant. *
Your body's natural glutathione levels fluctuate constantly throughout the day, are lowest in the morning, and decrease as you age. Healthy Origins® Setria® L-Glutathione Reduced is recommended daily as a dietary supplement taken first thing in the morning to maintain healthy glutathione levels. *
The new veggie caps are soy free and non-GMO. Each 500 mg capsule is free of yeast, wheat, gluten, barley, fish, shellfish, peanuts, eggs, and milk. Healthy Origins® uses no artificial sweeteners, flavors, or colors in Setria® L-Glutathione Reduced—a naturally derived substance that is a biologically active sulfur amino acid tripeptide compound containing three amino acids: L-Cysteine, L-Glutamic Acid, and Glycine. *
Glutathione is one of the most powerful protective substances in the body. Its function is to protect all kinds of cells from the damaging effects of ingested chemicals and potential carcinogens the body already has absorbed. Setria® Glutathione:

Offers superior antioxidant support by providing reduced glutathione, the most powerful intracellular antioxidant. *
Provides reduced glutathione (GSH), which can regenerate oxidized Vitamin C back to its active form. *
Delivers GSH to support glutathione-dependent enzymes crucial for detoxification within the body. *
Offers GSH to support glutathione S-transferases in the safe elimination of toxins. *
Provides GSH, which supports the detoxification of xenobiotics in the liver. *
Supplies reduced glutathione, an antioxidant required for many stages of the immune response. *
Promotes healthy aging by contributing to the body's antioxidant defenses and GSH levels that naturally decline with age. *
Provides reduced glutathione (GSH), a unique antioxidant that can be absorbed intact. *
Setria® L-Glutathione is a well-studied form of glutathione that provides intracellular antioxidant support, benefits cellular detoxification, and supports a healthy immune response. Found in virtually every cell of the body, glutathione plays essential roles in protein synthesis, synthesis and repair of DNA, enzyme function, transport, and cell maturation. Optimal levels of glutathione have been associated with physical and mental health. *
For more information about Healthy Origins® Setria® L-Glutathione Reduced veggie caps, click here.
About Healthy Origins
Healthy Origins® was founded in 1996 with a simple but challenging mission statement: "to provide a healthy value from reliable origins." Healthy Origins® is a Pittsburgh-based distributor of nutritional supplements. We provide top quality products from some of the most reputable suppliers in the world. Most of our active ingredients are patented branded ingredients manufactured by reputable suppliers who are leaders in their respective fields. Our products are developed with our own custom formulations and are manufactured with strict compliance to cGMP guidelines. For more information, visit http://www.healthyorigins.com/.
About Setria
Setria® Glutathione, manufactured by Kyowa Hakko Bio Co., Ltd., is a clinically studied and patented form of glutathione that, when taken orally1, has been shown to replenish the body's reserves, which may be depleted as a result of poor lifestyle choices, stress or natural aging. Called the "master antioxidant," glutathione helps protect cells in the body from the damaging effects of oxidative stress and toxins. Setria® Glutathione is manufactured through a patented fermentation process to yield high purity and high quality, is vegetarian and allergen-free. For more information about Setria® Glutathione, visit http://www.SetriaGlutathione.com.
*These statements have not been evaluated by the Food and Drug Administration. This product is not intended to diagnose, treat, cure, or prevent any disease.