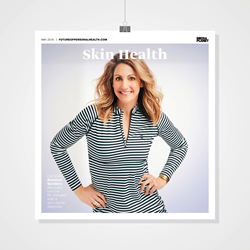 While it's important to treat the symptoms of infection, it is critical to address the underlying cause – as the skin is often representative of your overall health
NEW YORK (PRWEB) June 04, 2018
Mediaplanet announces the launch of the May's edition of "Skin Health." This campaign will showcase the innovative work being done in the world of skin health and highlight what industry experts and patients are doing to help their skin conditions.
Speer Laboratories, the manufacturer of EMUAID® products, was founded by the late Richard Nicolo as a cutting-edge research and development of natural products and dietary supplements. Speer Laboratories is committed to designing safe, yet highly effective treatments that help others. When it comes to skin-related conditions, it's important to use products with quality ingredients:
"Acne and bacterial/fungal infections are very common," says Amy Nicolo, President & COO. "Many infections proliferate in the body due to inflammation and a taxed immune system. While it's important to treat the symptoms of infection, it is critical to address the underlying cause – as the skin is often representative of your overall health. Our EMUAID® First Aid Ointment uses only natural, medical-grade, anti-fungal and anti-bacterial ingredients to treat the symptoms of over 100 resistant skin conditions and incorporates a transdermal delivery system to reduce the underlying inflammation. It's this synergy of healing ingredients and transdermal delivery that makes our product so successful at treating many overlooked conditions."
While it's important to be mindful of the ingredients in your products, a healthy lifestyle is just as crucial. "There is a shift toward a more holistic approach to health in the medical community, and this momentum is surfacing in skin health," says Nicolo. "A consistent, quality skin care regimen is important, but diet, immune health, lifestyle, sleep, reducing stress and maintaining mental well-being and happiness are equally important. While many trending ingredients will come and go, your overall well-being will always be a critical factor in the health and appearance of your skin."
The print component of "Skin Health" is distributed within this weekend's edition of USA Today in New York, San Francisco, Phoenix, Los Angeles, Houston and New Orleans markets, with a circulation of approximately 250,000 copies and an estimated readership of 750,000. The digital component is distributed nationally, through a vast social media strategy and across a network of top news sites and partner outlets. To explore the digital version of the campaign, click here.
This campaign was made possible with the support of Summer Sanders, American College of Mohs Surgery, Speer Laboratories, American Society for Dermatologic Surgery, Coolibar, Allison Arthur, National Eczema Association and the American Society for Radiation Oncology.
About Mediaplanet
Mediaplanet specializes in the creation of content marketing campaigns covering a variety of industries. We tell meaningful stories that educate our audience and position our clients as solution providers. Our unique ability to pair the right leaders with the right readers, through the right platforms, has made Mediaplanet a global content marketing powerhouse. Our award-winning stories have won the hearts of countless readers while serving as a valuable platform for brands and their missions. Just call us storytellers with a purpose. Please visit http://www.mediaplanet.com for more on who we are and what we do.
Press Contact:
Sarah Wasser
sarah.wasser(at)mediaplanet.com
(646) 979-2831