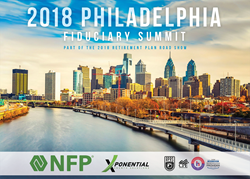 This Summit will focus on steps you can take to ensure your plan is run efficiently and in the most cost-effective manner. By doing so, your participants will be the ultimate beneficiaries of your actions
PHILADELPHIA (PRWEB) June 20, 2018
2018 marks the seventh consecutive year Xponential Growth Solutions (XGS) has held the Retirement Plan Roadshow, first founded in 2012 to assist U.S. employers in reaching their retirement plan goals through educational workshops. The 2018 Philadelphia Fiduciary Summit, set to take place Tuesday, July 24th 2018 from 11:00am to 3:30pm (luncheon included) at The Inn at Villanova University in Philadelphia, PA, is the eleventh stop along this annual, nationwide tour.
XGS is committed to providing education and resources that help business owners, fiduciaries, and finance, human resource, and benefit executives to better understand retirement plan best practices and industry trends. This, in turn, allows them to make informed decisions and develop strategies that will help businesses to grow and provide positive outcomes for plan participants.
The annual Retirement Plan Road Show supports this goal by pairing local speakers with industry leaders to discuss a diverse range of topics, from fiduciary responsibility, plan design, and investments, to healthcare, wellness, and more. In 2017, the Retirement Plan Roadshow reached over 1,200 companies and organizations, positively impacting more than 2 million plan participants representing over $125 billion in retirement plan assets. XGS hopes to have an even greater impact with the 2018 Retirement Plan Road Show.
Following the success from previous years, Mike Falcone, Vice President of NFP's Retirement Division is once again hosting the Philadelphia Fiduciary Summit. Mike Falcone emphasizes that "Nobody said being a fiduciary is an easy job, especially these days when everything you do is under someone's microscope. What matters most is that you do things prudently and document what you've done. This Summit will focus on steps you can take to ensure your plan is run efficiently and in the most cost-effective manner. By doing so, your participants will be the ultimate beneficiaries of your actions".
As the event host, Mike Falcone will lead the discussions on timely fiduciary topics affecting local plan sponsors. This year's lineup of guest speakers includes:

Bradford Campbell, Current Partner at Drinker Biddle & Reath LLP and Former Assistant Secretary of Labor for Employee Benefits and Former Head of the EBSA
More speakers to be announced!
Topics of discussion for the 2018 Philadelphia Fiduciary Summit include:

What Every Fiduciary Needs to Know
Evaluating the Reasonableness of Plan Fees
Convergence of Healthcare & Retirement
Environmental, Social and Governance (ESG) Investing – A Guide for Plan Fiduciaries
How to Maximize Participant Outcomes Through Successful Plan Design
Legislative Updates
Financial Wellness
Executive Benefits
Active & Passive Investment Trends
RFP & RFI Best Practices
More Topics TBA!
Participants in the 2018 Philadelphia Fiduciary Summit may be eligible to receive the following continuing education benefits for attendance:

3 Hours of CPE/CPA Credit
3 Hours of HRCI/SPHR/PHR/GPHR General Credit
3 Hours of SHRM Professional Development Credits (PDCs)
CEBS Eligible
The cost to attend this event is a registration fee of $150, which may be waved for select, qualified plan sponsors following completion of a one-minute Retirement Plan Roadshow survey.
About NFP:
At NFP Corp., our solutions and expertise are matched only by our personal commitment to each client's goals. We're a leading insurance broker and consultant that provides employee benefits, property & casualty, retirement, and individual insurance and wealth management solutions through our licensed subsidiaries and affiliates.
NFP has more than 3,400 employees and global capabilities. Our expansive reach gives us access to highly rated insurers, vendors and financial institutions in the industry, while our locally based employees tailor each solution to meet our clients' needs. We've become one of the largest insurance brokerage, consulting and wealth management firms by building enduring relationships with our clients and helping them realize their goals.
Recently NFP was ranked the 2nd fastest-growing U.S. large-group employee benefits brokers by Employee Benefit Adviser. In addition, Business Insurance ranked as the 5th largest global benefits broker by revenue, the 4th largest US-based privately owned broker and the 11th largest broker of US business. PlanSponsor ranked us the 5th largest executive benefits provider of nonqualified deferred compensation by number of plans, and we were ranked 11th in personal lines P&C revenue by Insurance Journal.
About Xponential Growth Solutions:
Xponential Growth Solutions (XGS) is an independent resource for unbiased education, best practices, and referrals, working to help employers make informed decisions about retirement plans in order to create a positive impact for plan participants. XGS offers solutions for 401(k), 403(b), 457, and defined benefit retirement plans, while also facilitating national fiduciary educational summits designed to help human resource, finance, and business professionals in charge of retirement plans to understand and observe best practices in order to reach retirement plan goals. XGS founded the Retirement Plan Roadshow, a nationwide series of educational summits featuring local and leading fiduciary experts, in 2012.
For more information, visit: http://www.xgrowthsolutions.com