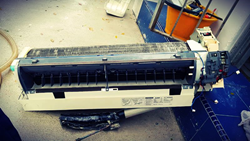 Poorly maintained aircons will have a hard time coping with different weather patterns
SINGAPORE (PRWEB) June 06, 2018
With the constantly changing temperature in Singapore, AS Aircon has reported an increased number of requests for aircon servicing and repairs since the year started. Along this line, the company has also revealed their own maintenance package, which is meant to prevent last minute servicing needs.
The maintenance package, according to the company website is meant to make the air-conditioning unit run at its optimal performance, even amidst the weather changes in the city.
"Naturally, poorly maintained aircons will have a hard time coping with different weather patterns, especially here in Singapore where the humidity can be a bit harsh," the website says.
Depending on the state of the unit being serviced, AS Aircon will start with the standard cleaning procedure to bring back the actual cooling capacity of the aircon. However, the difference with this maintenance package is that the specialist will not simply stop with cleaning but will also conduct further check-up to determine the services that will prevent the unit from breaking down.
This will also include a more thorough vacuum service, which is particularly meant to address the pipes clogging where the dust build-up can also be a problem. The specialist will also do servicing of the other parts of the aircon including its compressor, drainage system, air filter, condenser coil, and fan. The maintenance package will be concluded with the purifying of the air filter.
"All these seem like a longer process than the usual type of single servicing, but this will actually be more time and cost efficient in the long run," the website explains.
It was further advised by this decade-old company to start being proactive in terms of aircon maintenance. Waiting for more severe problems to occur before calling an aircon specialist will only contribute to the deterioration of the unit, the website claims.
To avail of their recent maintenance package and other services, the AS Aircon Servicing can be reached at +65-8291 3266 or follow the map here. Located them at Block 515 #01-207, Bedok North Ave 2, Singapore 460515