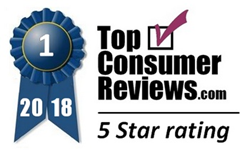 American Residential Warranty leads the pack when it comes to the best home warranty plans. We're pleased to give them our highest rating in 2018.
BOCA RATON, Fla. (PRWEB) June 07, 2018
We are pleased to announce that American Residential Warranty has been awarded The Best-in-class 5 Star Rating by TopConsumerReviews.com.
"American Residential Warranty has the best reputation in the home warranty industry - by far. As the only company with an A+ rating at the BBB and hundreds of glowing positive customer reviews. American Residential Warranty makes an impression with well-priced home warranty options and an excellent track record for servicing those plans. American Residential Warranty is our first choice for your home warranty needs," according to TopConsumerReviews.com
American Residential Warranty continues to pride itself on being a top national home warranty provider and was named one of the top places to work in South Florida by the Sun-Sentinel in 2017. American residential Warranty was also recognized as one of the top 101 Best and Brightest companies to work for in the nation by the National Association for Business Resources.
"We are very excited for the recognition from an independent consumer review board, but while pleasantly surprised with the very thorough in-depth review of the industry by an independent source we are not surprised by their conclusions," said Steven Siccone, VP of Digital Marketing at American Residential Warranty. "We work extremely hard to please our customers and it is extremely rewarding to receive outside validation that confirms that we are in fact 'Best-in-Class.'"
American Residential Warranty does not currently have any existing business relationship, nor have we had any business relationship with TopConsumerReviews.com in the past or at the time of this 5 Star Rating.
AMERICAN RESIDENTIAL WARRANTY is a national company that serves customers in all 50 states. Our corporate office is located in Boca Raton, Florida and we are A+ rated by the Better Business Bureau. Our extensive suite of innovative products includes home warranty plans, electronics protection plans home security systems and more. ARW's partners includes some of the largest service providers, such as TWG Home Warranty Services, AmTrust Financial Services, Asurion and many other outstanding brands.