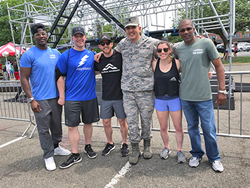 SUITLAND, Md. (PRWEB) June 05, 2018
Andrews Federal Credit Union, in partnership with Joint Base Andrews (JBA) 11th FSS/FSK Marketing Office, recently sponsored an Alpha Warrior event. The Credit Union provided a number of items for the participants, including water, fruit, energy bars, water bottles and seat cushions.
The Alpha Warrior program is an Air Force-wide initiative to incorporate a functional fitness approach for Airmen. The Battle Rigs and Battle Stations provide them with a new and exciting way to work out, build unit cohesion and foster a sense of community with fellow Airmen. A practice rig was constructed on Joint Base Andrews for military personnel to practice on throughout 2018. Alpha Warrior Pro-Athletes were also on hand to demonstrate how to complete an obstacle course composed of several obstacles including a salmon ladder, three ring ropes and a rope climb.
"It was great to see such a fun, competitive spirit at this event," said Rosalind Bishop, Regional Manager, Andrews FCU. "The Rigs and Stations truly test the endurance and stamina of the participants. We love and support our troops any chance we get."
About Andrews Federal Credit Union
Andrews Federal Credit Union was founded in 1948 to serve the needs of military and civilian personnel by providing a vast array of financial products and services. With over $1.5 billion in assets, Andrews Federal has grown to serve more than 120,000 members in the District of Columbia, Joint Base Andrews (MD), Springfield, Virginia (VA), Joint Base McGuire-Dix-Lakehurst (NJ), and military installations in central Germany, Belgium, and the Netherlands. In addition, the Credit Union serves as a financial partner with many select employee groups in Maryland, the District of Columbia, and New Jersey.
To learn more about Andrews Federal Credit Union and its community involvement, or to become a member, call 800.487.5500 or visit http://www.andrewsfcu.org.