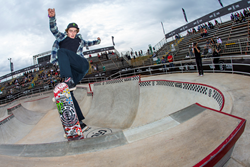 I'm just stoked to be out here skating in Brazil. The crowd is super loud and really the greatest at any contest I have ever been to - Tom Schaar
SÃO PAULO, Brazil (PRWEB) June 04, 2018
Monster Energy congratulates Tom Schaar for taking first place at the Vans Park Series (VPS) Pro Tour Global Qualifiers in São Paulo, Brazil today. In front of a capacity crowd at the brand-new Vans Skatepark São Paulo, the 18-year-old from Malibu emerged on top of a field of the world's best park terrain riders, including skaters from Australia, Brazil, Italy, Sweden, and the United States.
Now entering its third year, the Vans Park Series (VPS) is the official world championship format in park terrain skateboarding for men and women. Every year, hundreds of riders across the globe compete in ranked VPS events like the VPS Continental and National Championships as entryways into the VPS Pro Tour. This season features Pro Tour stops in Huntington Beach, California; Vancouver, Canada; and Malmö, Sweden. The season's top-ranking competitors will then battle for the men's and women's titles at the Vans Pro Skate Park Series World Championship in China from October 26-27.
Today's event took place on a brand-new 2,800 square feet concrete skate park in the Parque Cândido Portinari featuring a variety of pool corners, banks, extensions, rails, and a 9.5-foot deep end. Freshly inaugurated on May 29, it is the first facility in South America – and second in the world – that is built-to-spec and certified by the VPS for park terrain competitions. The Vans Skatepark São Paulo will remain a permanent fixture for the local scene as a public and free facility after the competition.
The Brazilian crowd was on its feet during today's heavily contested Semi Finals. As the field of 20 top park terrain riders battled for one of eight spots in the Finals, the bar for qualifying scores was raised well above the 81-point mark. Established pros faced major heat from young rookies like crowd favorite Luiz Francisco from Brazil, and even reigning VPS World Champion Oskar Rozenberg found himself missing the cut.
Schaar held his own by qualifying for the Finals in second place with a flawless run, only to see the heat turned up yet another notch by Brazilian Pedro Barros and VPS Select Pro Cory Juneau. Rising to the challenge, Schaar put together a perfect Finals run mixing high-speed airs and technical lip tricks, including frontside Smith grind over the love seat, frontside feeble through the corner, Indy nosebone into the bank, ollie to frontside nosegrind up the tombstone, big spin backside lipslide, tweaked frontside stalefish and over head-high backside 540 in the deep end, plus transfer to crooked fakie into the bank for a 90.00-point score and the win.
"I'm just stoked to be out here skating in Brazil," said Schaar. The crowd is super loud and really the greatest at any contest I have ever been to," continued Schaar upon winning first place today. Asked about going for the World Champion title this year, Schaar said: "I will just take it contest by contest from here and see what happens when we get there."
Schaar kicked off his 2018 contest season with a first place finish at the 13th annual Vans Pool Party contest in May, making history by winning the iconic event for the third time in his career. Previous career milestones include landing the world's first 1080 aerial on a skateboard at the age of 12 in 2012, and becoming the first X Games athlete to medal in both Big Air and Skate Park events at X Games Minneapolis in 2017.
Tom finished last year's Vans Park Series (VPS) season in first place of tour rankings after placing third in the VPS Men's World Championships in Shanghai. And while he entered the 2017 VPS season as Tour Challenger, he is now a 2018 Men's Pro Tour Select Pro – and sits on top of the leaderboard after today's win.
Also making a strong showing in today's Semi Finals, Monster Energy's Trey Wood worked all angles of the park with a near-perfect run full of technical tricks at high speeds. Standouts like backside air over the centerpiece, transfer to frontside tailslide up the tombstone, huge heelflip Indy in the deep end, backside tailslide, frontside 5-0 transfer off the top bar, frontside nosebone over the hip, and backside lipslide transfer out of the love seat built the foundation for a strong score. But Trey had difficulty reigning in a highly technical frontside kickflip stalefish in the deep end and missed the cut into the finals with a 74.27-point score.
In today's qualifier event in the expanded 2018 VPS Women's Tour, Monster Energy's Lizzie Armanto from Santa Monica, California, held her own against a field of the world's best female park skateboarders from Japan, Australia, Brazil, and the United States. In a heavily contested final, the 25-year-old park skating icon put together a perfect run featuring frontside 5-0 over the love seat, backside ollie transfer into the bank, frontside boneless on the bank, frontside air over the hip, invert on the tombstone, and backside air over the entire centerpiece section for a 79.07-point score.
Armanto held on to third place but was bumped into fourth place on last run attempts by California's Brighton Zeuner (80.37 points). Local favorite Yndiara Asp from Florianopolis, Brazil powered into second place (81.10 points) while Japanese rookie Sakura Yosozumi took the win with an 83.57-point finish in her first-ever Vans Park Series event.
Download photos for editorial use.
Now that São Paulo is in the books, look forward to Schaar, Wood, and Armanto competing at upcoming global tour stops, including the Vans Park Series Pro Tour Qualifiers in Huntington Beach, California, on August 4, 2018 and X Games Minneapolis, Minnesota from July 19-22, 2018.
Find more information on http://www.monsterenergy.com and follow Monster Energy on Facebook, Instagram, Twitter for exclusive updates.
###
About Monster Energy
Based in Corona, California, Monster Energy is the leading marketer and distributor of energy drinks and alternative beverages. Refusing to acknowledge the traditional, Monster Energy supports the scene and sport. Whether motocross, off-road, NASCAR, MMA, BMX, surf, snowboard, ski, skateboard, or the rock and roll lifestyle, Monster Energy is a brand that believes in authenticity and the core of what its sports, athletes and musicians represent. More than a drink, it's the way of life lived by athletes, sports, bands, believers and fans. See more about Monster Energy including all of its drinks at http://www.monsterenergy.com.