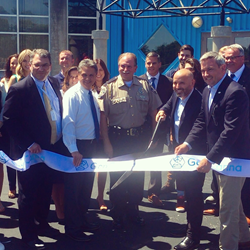 We're proud of GenCanna's continued expansion and success, as the industrial hemp research pilot program continues to grow.
WINCHESTER, Ky. (PRWEB) June 05, 2018
On the first day of Hemp History Week, GenCanna Global Inc.™, a worldwide leader in hemp cultivation, manufacturing, and hemp-derived products, celebrated their continued growth and expansion with the official opening of a new office facility in Winchester, KY. A milestone for the company's development, the extension re-affirms the value added to the community by GenCanna's 100+ jobs created and $50m in economic impact in the state over the last 4+ years.
The support of the local community, state, and federal officials has helped GenCanna™ to prosper as the leader in hemp farming and hemp-derived products. Kentucky Agriculture Commissioner Ryan Quarles joined GenCanna's CEO Matty Mangone-Miranda and President Steve Bevan to recognize the achievement. "We're proud of GenCanna's continued expansion and success, as the industrial hemp research pilot program continues to grow. Today's announcement is proof that it time to legalize industrial hemp so we can harness the crop's true economic development potential."
The new building on Venable Road serves as GenCanna's corporate headquarters, while the Hemp Research Campus on Colby Road remains the flagship and home to the hemp processing, extraction, and product development in its FDA Registered and Inspected facilities. "We're thrilled that our mission in Kentucky continues to grow and expand," said GenCanna™ CEO Matty Mangone-Miranda, "The opening of the new corporate headquarters in Winchester is an example of GenCanna's steadfast commitment to social, economic, and environmental responsibility as we deliver our industry leading hemp-derived products and bring more jobs and resources into the Bluegrass State. We are pleased to be adding local Sales and Marketing, Finance, and Corporate Services professionals to complement our Production and Laboratory divisions."
ABOUT GENCANNA GLOBAL, INC.™
GenCanna Global, Inc.™ is a vertically integrated industrial hemp cultivator and processor located in Winchester, Kentucky. GenCanna™ strives to leverage resources at its Hemp Research Campus to educate and enroll the local community and farming partners. In collaboration with state universities and local agencies, GenCanna™ will continue develop and deploy novel cultivation techniques that enable Kentucky to be the leader in the hemp industry (learn more at https://gencanna.com/agriculture/). GenCanna™ sustainably grows premium hemp cultivars on fertile Kentucky family farms, and crop processes the harvest for sustainable feedstock. Consistent extraction methods and innovative processing technologies ensure the process exceeds all regulatory standards for the FDA registered and inspected food production facilities (learn more at https://gencanna.com/compliance/). The GenCanna Production Platform™ assures standardized, repeatable quality from farm to finished product.
More information about GenCanna Global, Inc.™ may be found at http://www.GenCanna.com.