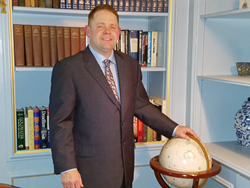 I provide serious experience in basic dental care, advanced surgical dental care, dental implants, and endodontic procedures that allow patients to have the best smile possible in support of the best oral health achievable. Patients are given utmost care and attention
MANSFIELD, Ohio (PRWEB) June 09, 2018
Dr. Russell Kiser has Board Certification through The American Board of Oral Implantology (ABOI): Dental Implants. He is a Practicing Dentist with Two Specialty Certifications.
The American Board of Oral Implantology's mission is to elevate the standards and advance the science and art of oral implantology / implant dentistry. The ABOI is recognized by the American Board of Dental Specialties (ABDS) as a certifying Board in Oral Implantology/ Implant Dentistry.
The Dental Implant Exam through the ABOI is Only Open to Qualified Implant Practitioners.
The ABOI symbolizes the highest level of competence in implant dentistry. Certification by the ABOI attests to the fact that a dentist has demonstrated knowledge, ability, and proficiency in implant dentistry through a rigorous examination process. Candidates must demonstrate in-depth knowledge, and proficient skills and abilities in both the surgical and restorative aspects of implant dentistry as well as in critical aftercare.
Recognition for the distinction will occur at the annual AAID (American Association of Implant Dentistry) meeting. Dr. Kiser will be traveling there to be inducted when he goes to the annual conference in Texas on September 28th.
Dr. Kiser has passed the rigors of the exam and oral defense so he is a diplomate and can accurately announce in the state of Ohio now that he is a Dental Implant Specialist (Implantologist) as well as a practicing Endodontist (root canal specialist).
Dr. Kiser's two certifications pertaining to dental implants (Endodontist and Implantologist) are a rare distinction in the Mansfield area.
ABOUT ADVANCED DENTISTRY AND DENTAL IMPLANT CENTER OF MANSFIELD OHIO: Dr. Russell Kiser is a certified Endodontist and Implantologist specialist. He is a practicing dentist with many years of experience in the field of dentistry, restorative/prosthetic care, root canal therapy, dental surgery and implant surgeries.
"I enjoy planning and developing a beautiful smile for patients; also, helping patients along with the hygienists to maintain good oral health is a priority. I provide serious experience in basic dental care, advanced surgical dental care, dental implants, and endodontic procedures that allow patients to have the best smile possible in support of the best oral health achievable. Patients are given utmost care and attention with consideration by me and my staff who look at the patient's overall condition to make sensible recommendations." - Dr. Kiser
Advanced Dentistry and Dental Implant Center
Russell Kiser II, DDS, MS, EMT-P
Dentist / Endodontist
1221 S. Trimble Rd.
Building A, Suite A-1
Mansfield, OH 44907
419-756-2880
https://kiserdental.com
https://www.facebook.com/Dr-Russell-Kiser-DDS-262071673965611/
https://twitter.com/kiser_dental
https://plus.google.com/+DrRusselKiserDDSMansfield