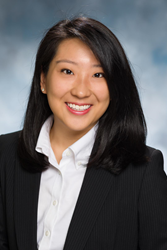 BERKELEY HEIGHTS, N.J. (PRWEB) June 05, 2018
For Kristen Wong of Summit, NJ, studying medicine has always been her calling. "I love the idea of taking care of people, helping them directly, having continuity of care and building a long-term relationship with them," she says. In pursuit of her dream, Wong began attending Rutgers University Robert Wood Johnson Medical School in New Brunswick, set to graduate this month, but soon realized she needed to learn one more thing. To become an effective physician with the population she would be serving, she needed to speak Spanish.
Wong, who at the time already spoke English, Mandarin, Cantonese and a little French, set her sights on speaking Spanish, too. "I realized that if I really wanted to take care of my patients respectfully, I needed to speak their language proficiently," she explains. And with the help of the Next Generation Scholarship from Summit Medical Group Foundation, Wong's dream of learning medical Spanish became a reality.
Wong's Next Generation Scholarship afforded her the ability to take a one-month, immersive course in Costa Rica covering medical Spanish (the summer after her first year of medical school). When she returned to medical school for her second year, the scholarship funds and support encouraged her to continue taking the medical Spanish course offered by her school, as well as to pursue learning Spanish on her own through online language apps. This was crucial as Wong maintained the language she had learned in Costa Rica and increased her vocabulary to encompass the conversational language she will need to effectively treat Spanish-speaking patients in the hospital.
"The ability to effectively communicate with patients is key," says Wong, "because doctors are only scheduled to have 15-20 minutes with a patient and what's missing is the close relationship with the patients," she adds.
"I hope to overcome this by being fully present when I'm with my patients - technology has been wonderful with the electronic medical records and having data available at your hands, but it's hard to balance looking at the computer and making eye contact with patients. Hopefully I can work out a way to be with my patients and then dictate my notes quickly afterwards, before the next patient encounter," Wong says.
The honor of being awarded the Next Generation Scholarship from Summit Medical Group Foundation is not lost on Wong. In fact, the scholarship has increased meaning because of a lifelong role model from Summit Medical Group: Dr. Kerry LeBenger, who had been treating the Wongs at SMG for more than two decades. Wong took note of LeBenger's constant support and the benefits her family received with his continuity of care for two generations. "It was amazing that this group I've been seeing my entire life (SMG) was helping invest in me!" Wong says. "I am really honored."
This summer, Wong will begin an Internal Medicine residency at her top choice - University of Texas Southwestern Medical Center. She hopes to specialize in Cardiology. "The heart is an amazing organ," she says. And Wong's heart is in the right place.
Summit Medical Group Foundation is committed to supporting undergraduate and graduate students like Wong, who seek careers in medicine and/or healthcare-related fields to enrich their lives and the lives of those in the communities they serve. This year, the Foundation will award more than $50,000 in scholarships. The recipients will receive awards ranging between $500 and $5,000. Over the past three years, the Foundation has awarded more than $170,000 to New Jersey students pursuing careers in medicine.
About Summit Medical Group Foundation
Summit Medical Group Foundation (SMGF), whose mission is to provide a strong foundation for healthy communities, is deeply rooted in communities in a steadfast effort to better the health and well-being of each member through wellness programs and medical education. Summit Medical Group—New Jersey's oldest and largest private multispecialty physician group—established SMGF in 2013 to grow its culture of philanthropy and further its more than 85-year legacy of building a healthier tomorrow through programs and services that extend far beyond traditional medical care. Among other initiatives, the Foundation provides scholarships for students pursuing medical-professional career paths. For more information, visit http://www.smg-foundation.org.