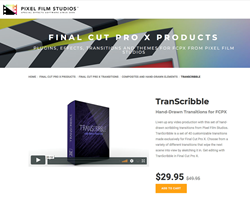 "TranScribble adds creative fun to any FCPX project with stylish and colorful scribble transitions!"
ALISO VIEJO, Calif. (PRWEB) June 05, 2018
Liven up any video production with this set of hand-drawn scribbling transitions from Pixel Film Studios. TranScribble is a set of 40 customizable transitions made exclusively for Final Cut Pro X. Choose from a variety of different transitions that wipe the next scene into view by sketching it in. Get editing with TranScribble in Final Cut Pro X.
TranScribble comes with 40 totally unique doodle transitions. Choose from shots that wipe in the next shot from the center, left to right, top to bottom or from random start points. Each transition has a unique scribbling animation that fills up the screen with and brings in the next shot with style.
Create any look by adjusting the color threshold controls. First, choose a dark and light color using a simple color picker. Then, adjust the amount of threshold and smoothness by moving around the intuitive slider controls. Editors can create a variety of looks with this set of easy-to-use controls.
Change the size of the scribble width by adjusting its respective slider. Transition from scene to scene using thick lines or thin lines. The amount of lines that populate the screen may also be adjusted using the amount slider. Combine changes to these two sliders to create a variety of effects.
TranScribble is created exclusively for Final Cut Pro X from Pixel Film Studios. Find TranScribble in the transition section of the Final Cut Pro X library. Once a transition has been dragged into the timeline, all controls for it will be found in the Inspector control panel as long as the transition is selected. Users may adjust the duration of the transition by selecting its edge and squashing or stretching it.
Established in 2006, Aliso Viejo, California-based Pixel Film Studios is an innovative developer of visual effects tools for the post-production and broadcast community. Their products are integrated with popular non-linear editing and compositing products from Apple FCPX. Apple, the Apple logo, Mac OS X, and Macintosh are registered trademarks of Apple Inc. in the U.S. and/or other countries. All other trademarks and trade names are the property of their respective owners.