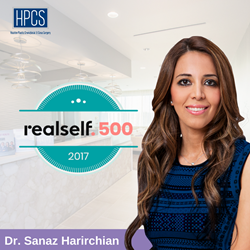 HOUSTON (PRWEB) June 06, 2018
In recognition of her devoted service to her patients and the online community of plastic surgeons and clinicians, RealSelf honors Dr. Sanaz Harirchian, one of the most seasoned facial plastic surgeons with the RealSelf 500 award.
The RealSelf 500 award for Dr. Sanaz Harirchian recognizes her commitment her patients and to the online RealSelf community that connects people looking for plastic surgeries with the most professional and internationally recognized plastic surgeons.
For any doctor to be nominated, they have to meet certain criteria and successfully pass a strict reviewing process designed by RealSelf. Despite the level of effort that a doctor puts in their work, their recognition on RealSelf heavily depends on the reviews they get from their patients.
Dr. Sanaz is a valuable member of Houston Plastic Craniofacial & Sinus Surgery team. She's not only specialized in facial plastic surgery, but also focus on neck, ear and reconstructive procedures. Dr. Harirchian remains active on the RealSelf platform to add more value to the online community and offer helpful advice to the patients who are having a hard time deciding the treatment that would be best for them. Her engagement with the online community is evident in her posts containing the patient before and after pictures. Also, she proactively responds to any queries and concerns from potential patients to remove their concerns about various procedures, and help them make the right decision.
"Trusting a surgeon with your face is a big decision and I consider it a privilege and a responsibility to be the best doctor to each and every one of my patients. I take pride in providing the highest quality care and will go above and beyond to take care of my patients every step of the process," said Dr. Harirchian.
About Dr. Sanaz Harirchain
Dr. Harirchian is board certified by the American Board of Otolaryngology Head & Neck Surgery and fellowship trained in Facial Plastic & Reconstructive Surgery. In addition to her skills in plastic surgery, Dr. Harirchian is an avid author, educator and researcher. She has authored numerous journal articles and book chapters. She is consistently learning and contributing to the field of facial plastic surgery, to be able to provide the most advanced and proven techniques to her patients. She is committed to consistently providing the most compassionate, dedicated, and luxurious care for the best results.
About RealSelf
RealSelf is a leading online platform consisting of a community of millions of patients, who trust it for various plastic surgery solutions and to look for advice from professional plastic surgeons. Every month, nearly 10,000,000 visitors post their plastic surgery related questions and queries on the platform, and receive free advice and answers from reputable doctors and clinicians.
Contact Information
https://myhoustonsurgeons.com/sanaz-harirchian-md/
Phone: 713-791-0700
Email: team(at)myhoustonsurgeons(dot)com