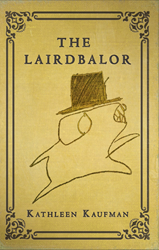 BEVERLY HILLS, Calif. (PRWEB) June 05, 2018
Echo Lake Entertainment (ELE) announced today that it has optioned Kathleen Kaufman's dark fantasy novel, The Lairdbalor, from award-winning publisher Turner Publishing. Australian director Nicholas Verso (BOYS IN THE TREES) is attached to direct. Echo Lake's Dave Brown is producing with John Powers Middleton and Alex Foster from The Middleton Media Group, and Helena Vilaplana who will Executive Produce. The producers are currently circling writers for the feature adaptation.
The critically-acclaimed novel that, according to Kirkus Reviews, "conjures terrifying scenarios, with crisp, elegant prose" is Kaufman's second novel and first with Turner Publishing. Following the journey of a boy who desperately tries to escape a nightmare shadow world with strange creatures, fears, and his own personal—and very real—nightmare, the Lairdbalor, the novel crosses genres of folklore, horror, fantasy, and magical realism. The novel is a deep exploration of the early origins of anxiety and fear for children growing up in a world in which they don't conform.
"We are passionate about bringing this haunting vision of psychological development to the screen" said Echo Lake's Dave Brown. "Kaufman's prose transports readers to their darkest imaginations where nightmares feel real and fear becomes a sort of nourishment in the exploration of the psyche. The Lairdbalor offers powerful themes in a cinematic way, and this enables this exciting team to bring those themes to life."
"We couldn't be more excited to partner with Echo Lake and the immensely talented Nicholas Verso on this unique property." said John Powers Middleton and Alex Foster of Middleton Media. "Nicholas' imagination and story telling style, deeply inspired by his early consumption of the era-defining fantasy films of the 1980s, Labyrinth, The Dark Crystal, and The Neverending Story, are perfectly suited to this material. The Lairdbalor has an emotional depth absent from most children's and young adult material, and we aim to honor and celebrate the rich experience of that period in our lives."
"When I first met with the team at Middleton, we spoke about wanting to create a bold, imaginative fantasy like this so when Echo Lake brought me Kathleen's book, it was incredibly serendipitous," said Nicholas Verso. "Kathleen has crafted such a wonderfully rich and vivid world filled with haunting characters, eerie imagery and a deeply moving, emotional undercurrent. I'm thrilled to have the opportunity to bring this to life on screen."
"We can't think of better partners to bring The Lairdbalor to life," said Turner Publishing president Todd Bottorff. "Echo Lake has a long history of producing high end quality films, and they have the steady hands and the delicate sensibilities to expertly transpose Kaufman's authentic and elegant voice to the screen. We are very excited for this next chapter of The Lairdbalor and look forward to watching how the vision will unfold."
The Lairdbalor's film rights were optioned on the heels of Turner's announcement that they will be publishing Kaufman's third book, Hag on October 2, 2018, a novel that follows a line of Scottish witches based upon Kaufman's on personal family history.
"Echo Lake and Turner have both been amazing partners along this journey," said author Kathleen Kaufman. "I am overjoyed with this development and cannot wait to see my little monster alive and breathing on screen. The Lairdbalor is more than a story about a child lost in nightmares, it is a story about anxiety, fear, and the pressures put on children as they confront a dark and scary world around them. The Lairdbalor is a child's fear, a child's monster, an intangible shadow that hunts for no purpose other than to hunt. We all have a Lairdbalor of our own and we all have our own journey through nightmares that we must take to confront that monster. I believe that Echo Lake understands how to represent these themes and the importance of tackling them in today's world."
Verso is repped by Echo Lake Entertainment, Paradigm, and Marios Rush at Marks Law Group.
About Echo Lake Entertainment
Echo Lake Entertainment is a film and television production, finance and management company based in Beverly Hills, CA.
Echo Lake Productions
Since its founding in 1998, Echo Lake Productions has produced and/or financed more than 30 films. The company's films have earned numerous awards including 8 Academy Award nominations and one Academy Award win. Echo Lake is interested in high end specialty films, especially those aimed at a mature audience. The company has a non-exclusive deal with FilmNation International with regard to international distribution. Echo Lake also manages the Blue Lake Media Fund, which invests in the company's projects and looks to finance films in the $10 and 30 million budget range. Echo Lake's television division has set up scripted television projects in the US and abroad
Echo Lake Management
Echo Lake Management represents established and emerging actors, writers and directors in Television, Film and Digital Programming. Their team of thirteen talent and literary managers is led by industry veteran Mike Marcus, one of the lead agents at CAA before becoming President and COO of MGM Pictures. In the expanding frontiers of television and digital, and in the changing structure of feature films, ELM's entrepreneurial spirit and thoughtful guidance helps clients find new ways to succeed. ELM represents clients all over the globe and benefits from the reach and international success of the company's production arm, Echo Lake Productions.
About The Middleton Media Group
The Middleton Media Group is the development, production and finance company of John Powers Middleton and Alex Foster. The primary mandate is to enable filmmakers and talent with a unique point of view, focusing on prestige material with worldwide commercial appeal. Founded in 2016, Middleton Media has been ramping up a new slate of projects including the cold war spy thriller A Most Dangerous Man with Studio 8, Seth Gordon's inspirational drama, Life in Rewind, and the biopic on the visionary and computer pioneer Grace Hopper among others. John Powers Middleton's credits include Manchester by the Sea, The Disaster Artist, The LEGO Movie, The LEGO Batman Movie, The LEGO Ninjago Movie, Spike Lee's Oldboy, Run All Night, 2015's Poltergeist, The Boy, Sleepless and A&E's Bates Motel.
About Kathleen Kaufman
Kathleen Kaufman is a native Coloradan and long-time resident of Los Angeles, California. She is a University of Southern California alum, teaches high school English, and is a writing and composition adjunct professor at Santa Monica College. In addition to writing, Kathleen is an avid amateur photographer and has published work in The Huffington Post and other publications. When not writing, she probably has a camera in hand or is curled up with a good horror novel. Kathleen currently lives in Los Angeles with her husband, son, terrier, and a pack of cats. Hag is her third novel.
About Nicholas Verso
Nicholas Verso is an award-winning Australian director whose first feature, BOYS IN THE TREES, debuted at the 73rd Venice International Film Festival, screened at Toronto, Busan, and Sitges, and won Best Narrative Feature at the Austin Film Festival. His short film work includes HUGO, FLIGHT, and 2014 AACTA Awards Best Short Film winner THE LAST TIME I SAW RICHARD, and television work includes the Emmy award-winning NOWHERE BOYS, GRACE BESIDE ME, and SNAKE TALES. Verso is currently in the 2017 Churchill Fellowship and attached to direct the high concept horror film THE ICE CREAM MAN and will write and direct the psychological thriller SLEEP TO DREAM.
About Turner Publishing
Founded in 1985, Turner Publishing Company is an award-winning independent publisher based in Nashville, Tennessee with multiple New York Times best-selling authors. It has been named by Publishers Weekly as one of the fastest growing independent publishers in the nation. For more information, visit http://www.turnerpublishing.com.