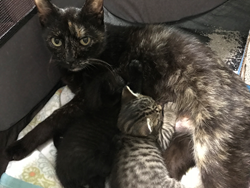 MOUNT RAINER, Md. (PRWEB) June 04, 2018
On Friday May 25, Alley Cat Rescue received a call from a concerned supporter who heard about children throwing rocks at a mother cat and her four kittens. The supporter was able to rescue two kittens at the scene. Unfortunately, the two other kittens reportedly had died and the mother cat was nowhere to be found.
Alley Cat Rescue immediately took the cats into their care and went back to the scene the next day. Alley Cat Rescue's trained rescuers found the mother cat hiding under a car nearby the scene, likely searching for her kittens. The mother was humanely trapped and is now in foster care with her two babies.
The three cats have been shook up by the ordeal but are recuperating and will soon be available for adoption at Alley Cat Rescue. The mother has been named June Bug and the kittens are Star and Boo.
Unfortunately, cruelty towards animals happens all too often, especially at the hands of children. Cruelty towards animals can be an indicator of other behavioral problems in children and continued criminal activity in adulthood. Alley Cat Rescue advocates for humane education to teach children how to be kind and compassionate towards animals and has taught courses at elementary schools and Girl Scout events.
Alley Cat Rescue Director of Operations Denise Hilton says, "When we have taught at local schools the children have been really engaged and interested in learning more about cats. It is so important to teach children compassion for animals at a young age, while they are so impressionable."
Interested adopters are encouraged to reach out to Alley Cat Rescue at acr(at)saveacat(dot)org to inquire about the mother cat and her kittens. To learn more about Alley Cat Rescue's work visit their website at saveacat.org
About Alley Cat Rescue: ACR is a national nonprofit organization dedicated to the welfare of all cats: domestic, stray, abandoned, and feral. ACR advocates for humane nonlethal control of feral cats. ACR has been awarded the Independent Charities of America's "Best in America" Seal of Approval, and our newsletter has won several awards from the Cat Writers' Association. For more information, please visit our website http://www.saveacat.org.