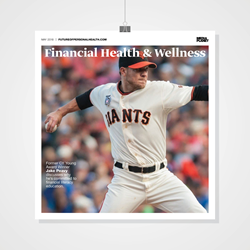 Financial literacy isn't talked about the way it needs to be, especially in sports....
NEW YORK (PRWEB) June 07, 2018
Mediaplanet and Jake Peavy are teaming up to educate readers about the tools and opportunities for improving your family and personal financial wellness. At any age, Americans can take control of their finances in this year's edition of "Financial Health & Wellness." Readers will be inspired to take control of their financial lives with the help of modern tools and ethical financial advisors.
With the large financial literacy gap and the lack of proper retirement planning in the US, it becomes difficult for Americans to feel financially stable. Whether the challenge is debt management, retirement planning or wealth management, there are proper steps to take and personal tools available to aid in any financial hurdle.
This year's edition of "Financial Health & Wellness" will be distributed digitally on Mediaplanet's future of business and technology content hub. The digital component is distributed nationally through a vast social media strategy and across a network of top news sites and partner outlets.
In an exclusive interview, Jake Peavy shares his commitment to providing financial literacy training to kids. In our conversation, Jake sheds light on the financial literacy gap.
"Financial literacy isn't talked about the way it needs to be, especially in sports," Jake explains. "When you talk about the income that professional athletes are making, and a lot of these kids are coming straight out of high school [like me] … You can even get an incredible college degree, become a doctor or lawyer, and still not have been taught anything about financial literacy."
This campaign was made possible with the support of OneMain Financial, Jackson National Life Insurance, BrightPlan, Billshark, the National Endowment for Financial Education, the Association for Financial Counseling and Planning Education, the FinTech Professionals Association and the Association of Financial Professionals.
About Mediaplanet
Mediaplanet specializes in the creation of content marketing campaigns covering a variety of industries. We tell meaningful stories that educate our audience and position our clients as solution providers. Our unique ability to pair the right leaders with the right readers, through the right platforms, has made Mediaplanet a global content marketing powerhouse. Our award-winning stories have won the hearts of countless readers while serving as a valuable platform for brands and their missions. Just call us storytellers with a purpose. Please visit http://www.mediaplanet.com for more on who we are and what we do.
Press Contact:
Wyatt G. King
wyatt.king(at)mediaplanet(dot)com
(646)-619-3516