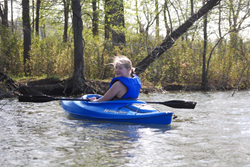 Exploring the Valley by water is easier than ever
KNOXVILLE, Tenn. (PRWEB) June 06, 2018
The Tennessee River and its seventy plus tributaries are widely known for the quality of paddling experiences and for the diversity of the shorelines, from vibrant cityscapes to densely tree canopied streambeds. The water of six rivers, Chattooga, Pigeon, Ocoee, Toccoa, Nolichucky, and Wild and Scenic Obed are known for adrenalin pumping adventures, where the roar of water and swirling eddies add to the experience. Whitewater season begins in early spring continues through early fall. The quality of water is dependent on seasonal rainfall and winter precipitation. This year, the waterways are quite are full and present challenges for novice paddlers. Check with local outfitters for conditions before venturing out on the water or schedule a group trip with a guide service familiar with the rivers.
Equally fun are the stretches of flat water rivers or the impounded waters behind the dams, which provide miles of waterways to kayak, canoe, and SUP. Three recommended scenic paddling trails to explore are the Elk River, Duck River, and Bear Creek Scenic Floatways. Visitors will experience a mix of paddling and floating through scenic canyons, woodlands, waterfalls and bluffs on some of the most biodiverse ecosystems in North America. Each weekend from Memorial Day to Labor Day, the Tennessee Valley Authority schedules recreational water releases to keep the floatways navigable.
Organized paddling events are another great way to learn about the rivers and biodiversity of the waterways. Six upcoming events are sure bets to provide fun for novice to experienced paddlers:

Youth Olympic Games- June 9 Huntsville, AL- Youth kayaking completion sponsored by Alabama Scenic River Trails.
Land Between the Lakes- June 9- Sunset Cruise- 6-8:30PM Rental kayaks available. For more information 270-924-2020
Full moon paddle Monthly Hambrick Bat Cave- Guntersville Lake, AL 256-270-3080
SUP Regatta-September 8- Norris Dam Paddle Challenge- Paddle board and Kayak categories with planned10 mile and 6 miles courses.
Holston River Weekend Paddle Trip- September 14-16 Cherokee Lake, TN
Ocoee River Race- Oct 13- Chattanooga, TN
Exploring the Valley by water is easier than ever. Three excellent planning guides to help you navigate your trip are the TN Water Trails, Alabama Scenic River Trails, and, of course, the Tennessee River Valley Mapguide. With the Tennessee River Valley Geotourism MapGuide, you can identify places to explore and share in their stories. With our interactive map, you can save trip ideas and build your own trip plans to see places around the region. It's time for you to share your stories and start some new ones!