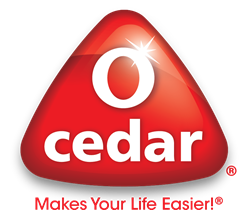 AURORA, Ill. (PRWEB) June 06, 2018
O-Cedar®, a category leader in innovative floor care, has named June 6th National Roommate Appreciation Day and will be celebrating the incredibly common, yet underappreciated, relationship all month long. With more adults living with roommates than ever before , the brand wants to make living together more enjoyable and less stressful for everyone.
"O-Cedar surveyed millennials and found that 47 percent say cleanliness is the most important factor when choosing a roommate," said Mike Esposito, Director of Marketing at O-Cedar – Freudenberg Household Products. "As a cleaning brand, we felt we could support this by not only providing them with cleaning tools, but also resources like a simple roommate agreement to help make roommates' lives easier."
The O-Cedar® "Makes Your Life Easier" Roommate Agreement offers roomies a way to set expectations and responsibilities for their homes, and avoid potentially uncomfortable conversations about who's supposed to take the trash out, or what times are acceptable to blast your favorite Spotify playlist.
Once roommates have the rules established, they can also enter the O-Cedar® Ultimate Roommate Appreciation Sweepstakes. The sweeps will award one lucky winner $5,000 worth of prizes, including $2,000 to help cover rent or other housing expenses, gift cards for TV streaming, laundry or dry cleaning, and meal delivery services, a $1,500 Amazon gift card and an O-Cedar® cleaning product bundle featuring the new ProMist® MAX Microfiber Spray Mop.
"We introduced the ProMist® MAX Spray Mop to help people tackle quick clean-ups like spills or muddy footprints, but designed it so it's easy to store, making it a great tool for roommates living in apartments or smaller spaces," said Esposito. "The product also has a reusable mop head and the ability to use your own solution, as we found millennials consider eco-friendliness one of their most important factors when buying cleaning products."
To participate in the Roommate Appreciation Day celebrations, download the Agreement and enter the Sweepstakes at http://www.promistmax.com/roommate. The Sweepstakes runs now through June 30th, and each entrant will receive a coupon for $5 off the new O-Cedar® ProMist® MAX Spray Mop immediately upon entry. No purchase is required to enter or win the Sweepstakes. For more information on O-Cedar®, visit http://www.ocedar.com, or find them on their social channels, Facebook, Twitter and Instagram.
About O-Cedar
O-Cedar®, a category leader in traditional floor care, is part of Freudenberg Household Products, a division of the Freudenberg Group headquartered in Weinheim, Germany. For more information visit http://www.ocedar.com/.
About Freudenberg Household Products
FHP is a division of the Freudenberg Group headquartered in Weinheim, Germany. The company's Household Products Division is a leading international manufacturer of branded goods including household cloths, cleaning products and laundry care products, and is the leader in virtually all markets in which it competes. The Freudenberg Household Products division employs about 2,300 employees globally and is best known in America for its O-Cedar® brand and signature tagline "O-Cedar Makes Your Life Easier!®"