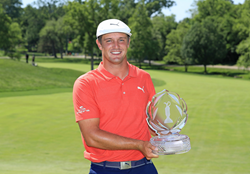 FALLS CHURCH, Va. (PRWEB) June 06, 2018
DeChambeau fired rounds of 69-67-66-71 to finish at 15 under par and won the event in a playoff against Kyle Stanley and Byeong An. This was the biggest win of Bryson's career and moves him up to 4th place in the FedEx Cup standings and up to 8th place in Ryder Cup standings. "We would like to congratulate Bryson DeChambeau on his second PGA Tour victory and believe that there are many more to come. He is a terrific young player, a great role model for golfers of all ages and we are thrilled to be part of this journey," said Cabell Fooshe of Tin Cup.
Bryson utilizes a version of the Tin Cup Tour Line Golf Ball Marker to assist with his putting alignment. After his victory DeChambeau had this to say, "Seeing putts go in is huge. It's very, very big for someone's morale." Bryson has been playing with Tin Cup for about two years now and is now one of the bright young stars on the PGA Tour. He is known for his scientific approach to the game, his unique style and his use of one length irons.
About Tin Cup Products, LLC
Tin Cup's patented golf ball marking stencils are crafted from 100 percent stainless steel and Made in the USA. The entire personalization process takes just seconds, placing the Tin Cup over a golf ball and tracing the design using an ultra-fine point permanent marker. In addition to more than 135 existing models, a customization program provides low minimums, affordable pricing and prompt delivery for corporations, charities, media outlets, celebrities, events and others seeking a distinctive gift.
Winner of "Best New Product" at the 2010 PGA Merchandise Show, it has been heralded by leading authorities worldwide, including CBS Sports, Cigar Aficionado, CNN, ESPN.com, Forbes, Gifts.com, Globe & Mail, Golf Business, Golf Digest, GOLF Magazine, Good Housekeeping, Men's Journal, People Country, TheStreet.com, TODAY Show, USA Today, Yahoo! and many others.