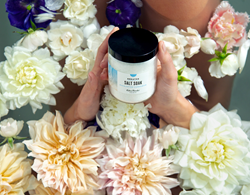 SAN CLEMENTE, Calif. (PRWEB) June 04, 2018
Edens Garden furthers its commitment to natural, non-toxic and cruelty-free personal care products with the release of seven new Bath Salt Soaks. Mineral-rich and made with 100% pure essential oils, the Salt Soaks blend the therapeutic benefits of aromatherapy with the restorative properties of high-quality salt.
"It's no secret that bathing is essential to good health" says Edens Garden CEO, Grace Martin. "With our line of Salt Soaks, we set out to enhance bathing by adding essential oils that ease aches, promote respiration, encourage sleep and more. Each Salt Soak was created to inspire and promote wellness."
The use of salts and minerals in the bath is a practice steeped in history and recommended by medical professionals. Each Salt Soak contains the highest quality Celtic sea salts, Epsom salt, baking soda and essential oils diluted in nourishing coconut oil. Often suggested for arthritis, inflammation, soreness, a variety of skin issues and bruising, the Salt Soaks contain a range of anti-inflammatory and detoxing properties.
Each with a different therapeutic purpose, the full collection includes Yuzu and Cannabliss, Eucalyptus and Cardamom, Grapefruit Pink Pepper, Fighting Five, Vanilla Sandalwood, Lavender Magnolia and Good Night Salt Soaks.
Unlike a majority of bath salts on the market, Edens Garden Salt Soaks are free of dyes, preservatives, harmful chemicals and harsh ingredients. Edens Garden has also remained faithful in their stance of leaving out synthetic fragrances, and have chosen not to add additional ingredients under the guise "fragrance."
Edens Garden Salt Soaks are soothing, restorative and steeped in luxurious ingredients and aromas. Each soak is packaged in a clear, 8 oz glass jar with aesthetically designed labeling, making for an elevated gift or focal point in any bathroom. This product is cruelty-free and available for purchase at edensgarden.com.
About Edens Garden
Edens Garden was formed in 2009 with the intent to provide high-quality, pure essential oils at affordable prices. Since that time, the online company has grown to include a large variety of single oils, synergy blends, carrier oils, body oils, natural bar soaps and salt soaks. Unlike many other aromatherapy brands, Edens Garden is a non-MLM company that sells directly to consumers. Through organic growth, Edens Garden has satisfied more than 10 million loyal customers. Known for a range of expertly formulated proprietary blends, Edens Garden has worked with some of the biggest names in the natural industry, including Schmidt's Naturals. To find out more about Edens Garden visit edensgarden.com or follow Edens Garden on Facebook, Instagram and Twitter.