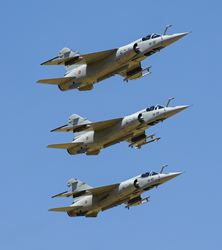 We are thrilled to be able to continue supporting the US Air Force at Nellis AFB through the ADAIR II contract.
LAKELAND, FL (PRWEB) June 05, 2018
Draken International has been awarded the $280 million Adversary Air (ADAIR) II contract to provide adversary air services at Nellis Air Force Base in Nevada through December 2023. Adversary air, or "Red Air", is training that simulates real-world threat scenarios. As the sole provider of adversary support for the USAF, Draken's team of highly qualified pilots fly the company's advanced fighter aircraft to simulate non-western tactics against USAF assets.
To support this contract, Draken will provide over 5,600 annual flight hours supporting combat readiness training. These aggressor missions include beyond-visual-range engagements, operational test support, dissimilar air combat maneuvers, offensive and defensive within-visual-range maneuvers, as well as advanced multi-ship tactics.
The Nellis ADAIR program, utilizing contract air services for Red Air training, began as an 800-hour proof-of-concept in the fall of 2015. The program has evolved considerably since that time and over the next five years, Draken will continue to expand its presence at Nellis AFB including daily flight schedules of 18-24 commercial ADAIR sorties supporting the USAF Weapons School, operational test missions, Red Flag exercises, Formal Training Unit syllabus rides from Luke AFB, as well as combat readiness training missions out of Hill AFB in Utah.
In addition to Luke, Hill and Nellis, Draken has also completed numerous successful deployments to Holloman AFB, Edwards AFB, MCAS Yuma, MCAS Cherry Point, MCAS Miramar, and NAS Patuxent River. The company has also supported training missions worldwide for our allied NATO partners, including operations in France and Leeuwarden Air Base in The Netherlands.
As the only commercial adversary operator with certified tactical fighters employing advanced radars and 4th generation capabilities, Draken's A-4 Skyhawks equipped with APG-66 radars and L-159 Honey Badgers with GRIFO-L radars have proven to be highly effective adversaries for the USAF, ANG, USMC and international partners. The company recently added 22 Mirage F-1M/B and 12 Cheetahs to its fleet, furthering its commitment to expand capacity and capabilities. Both fleets of supersonic, radar equipped jets are extremely low-time, affording Draken the ability to provide the warfighter highly effective 4th generation adversary training for decades to come.
Draken's continued efforts to invest in aircraft modernization will ultimately provide the warfighter credible and challenging threat representation. Draken's entire fleet of A-4s, L-159s, F-1M/Bs, and Cheetahs are currently going through a modernization program referred to as "RED STORM". The RED STORM modernization program includes a number of enhancements including a helmet-mounted cueing system, high off-boresight captive training missile, and datalink technology, resulting in a force multiplying architecture of advanced capabilities.
Draken CEO Jared Isaacman stated, "We are thrilled to be able to continue supporting the US Air Force at Nellis AFB through the ADAIR II contract. With an ever-growing fleet of capable, cost-effective fighter aircraft, we will continue to enhance our capabilities to provide realistic, threat representative ADAIR for the USAF and Joint partners alike."
About Draken International
Draken International is the world's largest operator of ex-military aircraft. The company is based out of Lakeland Linder Regional Airport in Lakeland, FL. The organization sets a new standard in airborne adversary support, flight training, threat simulation, electronic warfare support, aerial refueling, research, testing, as well as other missions uniquely suited to their fleet of aircraft. With over 150 tactical fighter aircraft incorporating modern 4th generation capabilities, the company is uniquely positioned to answer the growing global demand for commercial air services. Draken employs world class, military trained fighter pilots including USAF Weapons School Instructors, Fighter Weapons School Graduates, TOP GUN Instructors, Air Liaison Officers, and FAC-A Instructors. For additional information, visit http://www.drakenintl.com.