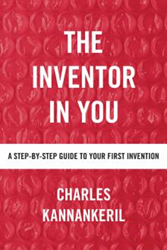 NEWARK, N.J. (PRWEB) June 05, 2018
In his 45 years of experience in research and development in plastics and rubber industry, Charles Kannankeril was able to come up with more than 300 ideas for new products and processes, and was granted 71 patents in his name. According to him, he acquired a great deal of valuable information from his success and failures during his research experience, and he believes that others can benefit by sharing such information with them. Hence, he releases "The Inventor in You: A Step-by-Step Guide to Your First Invention" (published by Balboa Press).
Readers may visit https://www.balboapress.com/Bookstore/BookDetail.aspx?BookId=SKU-001162858 to purchase and know more about the book.
The book is a guide to recognize one's hidden talents and skills, and to nurture them and to learn how to use them. It also provides techniques to train the mind to prepare it to think and act like an inventor. The book provides a step-by-step guide to create an invention starting from identifying a problem or unmet need, develop a solution or an idea to fulfill the unmet need and protect the invention before marketing.
"With the current fast moving technology, things are changing everyday. People want newer, better and faster things to replace the things they use on a daily basis. The technology is trying to keep up with his great demand. This is a great opportunity for an inventor to jump in, be creative and feed this insatiable appetite for newer, better and faster modern things," says Kannankeril.
"The Inventor in You: A Step-by-Step Guide to Your First Invention"
By Charles Kannankeril
Hardcover | 6x9 in | 192 pages | ISBN 9781982202637
Softcover | 6x9 in | 192 pages | ISBN 9781982202651
E-Book | 192 pages | ISBN 9781982202644
Available at Amazon and Barnes & Noble
About the Author
Charles Kannankeril was born in Kerala, India, where he received his bachelor's degree in chemistry. After coming to United States, he received a master's degree in organic chemistry from the University of Massachusetts. He received his second master's degree in engineering, from the same university, in the field of plastics. Kannankeril has over three years of teaching experience at universities both in India and the United States. He has 45 years of research and development experience in the plastics and rubber industry. Kannankeril has held various positions in these fields, including, senior engineering fellow and director of research & development. During his career, he was granted a total of 70 patents, 37 from the United States and 33 international. Currently, Kannankeril has 10 patent applications that are pending in the U.S. patent office. Some of his inventions are also protected by trade secrets.