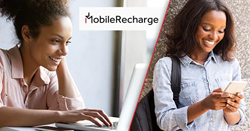 "Best mobile recharge. Very easy and simple." (Dilman Kadr on Trustpilot.com)
ATLANTA (PRWEB) June 06, 2018
MobileRecharge.com, the expat service facilitating long distance top-ups of mobile phones, introduces new networks that welcome recharges in India, Puerto Rico, Brazil, USA, Zimbabwe and Armenia.
Indians abroad can now send Vodafone mobile credit to 2 new regions in India, using MobileRecharge.com: Karntaka and West Bengal. The process takes seconds only and one can pay with PayPal, Visa or Mastercard, no matter the currency of their bank account. This brings Indian expats a chance to support their relatives and friends back in India by loading their mobile phones and thus supporting local communication.
Besides Vodafone India, Indians can also send credit to 9 more operators in the country: Airtel, Idea, BSNL, Docomo, Videocon, MTNL, TATA Indicom, Uninor and Jio. MobileRecharge.com hosts a great deal for Indians who use Jio or whose friends / families use Jio. For orders of INR 509 on MobileRecharge.com, Jio subscribers in India get unlimited minutes, plus 100 SMS per day and 2 GB of data per day.
For Latinos abroad, there is good news too. Brazilians abroad can now send Algar credit to their folks back in Brazil, while Puerto Ricans get the chance to send AT&T credit besides Claro to their families or friends in Puerto Rican.
Top-ups with the USA or to the USA are also more comprehensive starting May 2018. Anyone interested in loading their Red Pocket mobile phones online, can now do that on MobileRecharge.com. The processing fee is the minimum possible, and it takes few seconds only to have the credit active and ready to use.
The same way, anyone living far away, outside the USA, can help someone in the country, using Red Pocket, with credit balance between $10 and $50 worth mobile credit.
Red Pocket is one of the 15 operators that allow online top-ups. The other networks in the USA welcoming online top-ups are: ROK Mobile, Lyca Mobile, T-Mobile, AT&T, Verizon, Simple Mobile, Boost Mobile, Cricket, Ultra Mobile, Metropcs, EasyGo, H2O, TerraCom and TracFone Wireless is America's number 1 prepaid wireless provider.
For Armenian expats worldwide, willing to send credit back home to their folks, MobileRecharge.com adds Beeline on the website. From now on, anyone interested to top up a Beeline mobile phone in Armenia can carry it out on MobileRecharge.com in seconds only, the same way as it is possible to load Ucom and Viva MTS mobiles in Armenia.
Promo hunters are invited to join the Facebook community for real time updates, prizes and fun stuff: https://www.facebook.com/MobileRecharge.Fan/ Or, those interested can visit the Promotion page on the website whenever needed.
MobileRecharge.com is the initiator of World Top Up Day for generous expats, and a brand of KeepCalling, a global telecommunications company registered in 2002 in the USA, listed by Inc 5000 as one of the fastest growing companies in the USA for 5 consecutive years. Presently, KeepCalling provides its services to hundreds of thousands of consumers , with a focus on customer satisfaction. In 2015 the company registered a revenue increase of over 200% from 2011 to 2014.