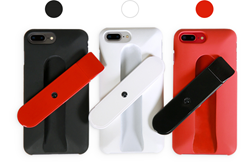 Whether you're streaming from cool angles for action sports shots, or want to take better selfies, Evo GoCam offers the most portable and always-available solution.
SAN FRANCISCO (PRWEB) June 05, 2018
AbleTech's new Evo GoCam, the first camera that's stored in a smartphone case and sticks to any surface, has surpassed its campaign goal on Indiegogo – raising more than $50,000 as crowdfunding enters its final three weeks.
"We're excited that crowdfunders who want to make sure everyone is captured in their photos are turning to the Evo GoCam as the perfect solution," said AbleTech Founder Mario Bertucci. "Whether they're streaming from cool angles for action sports shots, or want to take better selfies, Evo GoCam offers the most portable and always-available solution."
The ultra-slim, lightweight camera slides into a custom smartphone case – featuring a special micro-suction back-plate so the camera can stick to almost every surface without the need for extra accessories.
With Evo GoCam, users can get better group photos and videos, perfectly-framed selfies and shots captured from unusual positions – and it's ideal for discreet recordings to capture more candid moments.
Bertucci developed the Evo GoCam after the birth of his son Emanuele, when the new dad found he was rarely in the photos and videos he took of his son.
"A GoPro didn't solve the problem because I never had it when I needed to capture Emanuele's precious childhood moments, so I realized there needed to be a more versatile camera that was always connected to my smartphone and could work hands-free," he said.
From there, Bertucci developed Evo GoCam to create "a new eye" for any smartphone that was integrated and extractable, so he would never be without it. Evo GoCam, which slides into the phone case, is light, thin, ergonomic and easy to use – and can stick any surface.
"Using tripods, selfie sticks or leaning a phone against a tree stump are all attempts at trying to fix a fundamental problem with smartphone cameras, which is finding a way to hold the phone steady for pictures," Bertucci said. "With its adhesive back panel, which sticks to nearly any surface and detaches without leaving residue, Evo GoCam solves that problem for good."
Evo GoCam can even assist in parking in a tight spot, by attaching it to a vehicle bumper, and it can serve as a lightweight baby monitor. With the Evo app, the GoCam can be used to share on social media, watch recordings, or edit and apply filters.
To use the Evo GoCam, users just turn it on and connect it to a smartphone either via the internet with Wi-Fi, or by using WLAN.
Evo GoCam has many features, including:
Camera

Small and thin, at 3.94x1.18x0.24 inches and 2.82 ounces (100x30x6 mm, 80 grams)
Wi-Fi connectivity with the Evo app
Takes 5MP high-res photos and 1080p video (30 fps)
Motion sensor
HD stereo sound
Has range to 100 feet (30 meters)
Micro USB port and micro SD slot
Micro-Suction back which detaches without residue
Multiple Evo GoCams can link, creating a shared visual experience
Smartphone case

Compatible with Samsung, iPhone, Google, Motorola, Huawei and more
Silicon Case specifically designed to absorb shocks
Supports wireless charging
Evo GoCam will fit seamlessly on any Evo Smartphone Case
Available in black, white or red
Options

Waterproof case for underwater photography and video
Action cam (1.4") adapter
Use Cases are unlimited, but here are a few examples

Selfies
Group photos and videos
Surveillance camera
Dash and parking cam
Baby monitor camera
Live Stream camera
Remote camera for workers
Secondary camera for multiangle videos/photos
Action camera for sports and outdoors
Record live performances
For more information about Evo GoCam and to pre-order at early bird discounts visit the Evo GoCam Indiegogo Campaign Page.
ABOUT Evo GoCam - The Evo GoCam camera and smartphone case were created by AbleTech Inc. The team – including founder and general manager Mario Bertucci, designer Junior Claudio Christensen Theill and manager Enrico Panni -- believes the GoCam is the next step in mobile photography, making YOU part of the memory. Evo is the first wireless action camera which can be stored in the back of a specially-made smartphone case. For more information visit http://www.abletechsrl.com/index.html