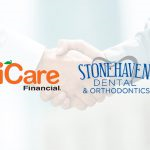 ATLANTA (PRWEB) June 07, 2018
Stonehaven Dental & Orthodontics, one of the nation's most mission-driven dental practices has teamed up with iCare Financial to help more patients get affordable access to dental care. With a purpose-filled focus on bringing out the true smile in all of their patients, the partnership with the leading dental financing company, iCare Financial, seemed like a perfect fit.
In little under a year, Stonehaven Dental & Orthodontics has been able to not only increase the number of appointments they make but also the number of procedures they complete. While the number of dentist visits, nationwide has been on a steady decline as more than 40% of Americans admit to forgoing necessary dental visits due to the cost , Stonehaven Dental & Orthodontics is offering their patients a new approach to getting the dental care they need to stay healthy.
"We've cleared a little over $100,000 in saved revenue that we would not have been able to generate. But, more importantly, we are able to truly help our patients by lowering the financial burden," explains Dr. Charles Town.
Though dental financing has its obvious financial benefits for all those involved, the patient relations benefits cannot be overlooked. When patients are able to lift the veil of dental cost and become more receptive to understanding their oral care and what they can do to maintain it, they are able to forge deeper and longer-lasting bonds with all of their healthcare providers.
"Since we can offer a host of affordable payment options that do not require a credit check, we've found that our patients trust us more, are willing to go through with our recommendations, and are happy to refer their friends and family. In dentistry, getting referrals from your patients is a great sign that your patients know you care for them and are willing to share their loved ones with you as well."
To be eligible for an iCare dental financing plan, patients only need an active checking account and can establish monthly payment plans to fit their budget. Dental work can be added on to financing and can be done in smaller increments to ensure that the dental bill is always manageable and within a patient's ability to pay. With iCare Financial's comprehensive suite of services, the administrative burden of tracking down payments and initiating collection proceedings are taken care of and dental practices are guaranteed payment, even if an account becomes delinquent.
For more information on iCare Financial and how their industry-leading billing system can help improve your patient relations, visit http://www.icarefinancialcorp.com/.
iCare Financial is a national dental and veterinary patient financing company. Their patented program enables medical practices to offer patients 0% interest, No Credit Check with instant approval and customizable monthly payment options.
Contact Information
Patrick Rangely
iCare Financial
http://www.icarefinancialcorp.com
(800) 862-7908.