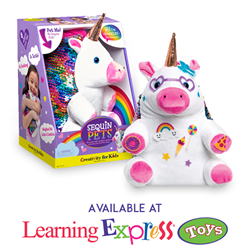 "Our customers love all things sequin and unicorn, and we know this adorable character kids can customize themselves will be a hit at Learning Express Toys."
CLEVELAND (PRWEB) June 06, 2018
Faber-Castell® USA today announced the launch of Sparkles the Unicorn to be sold exclusively at Learning Express Toys nationwide this summer.
Sparkles is the newest magical member of Creativity for Kids® highly successful Sequin Pets line launched at this year's Toy Fair with Happy the Hedgehog. Like Happy, Sparkles the Unicorn is a calming weighted, reversible sequined plush animal that can be decorated with fun, repositionable felt stickers.
"We are thrilled to introduce Sparkles the Unicorn to the world," said Lauren Ciprotti, Buyer, for Learning Express Toys. "Our customers love all things sequin and unicorn, and we know this adorable character kids can customize themselves will be a hit at Learning Express Toys."
Faber-Castell is excited to see Sparkles hit store shelves, highlighting the brand's focus on enriching lives through creativity and self-expression. Each product within their collection aims to inspire creativity and to allow for mindful crafting, self-expression, and/or pretend play.
"Happy the Hedgehog really struck a chord with everyone, most notably parents and educators of children with sensory processing issues," said Heather Lambert-Shemo, Director of Marketing for Faber-Castell USA children's brands. "We believe Sparkles the Unicorn will bring the same amount of joy and comfort to children and are very excited to partner with Learning Express for its initial launch."
For more information, visit fabercastell.com and learningexpress.com.
About Faber-Castell®
Faber-Castell® USA is headquartered in Cleveland, Ohio and is part of the global network of Faber-Castell companies in countries such as Australia, Brazil and Malaysia. Faber-Castell was founded more than 255 years ago, as a pencil manufacturer and today is known for its high-quality, professional art supplies and fine writing instruments and accessories. Faber-Castell is the leading provider of best quality creative experiences for a lifetime. Faber-Castell Children's brands include Creativity for Kids® (CreativityforKids.com) and Faber-Castell Premium Children's Art Products (GreatArtStartsHere.com). For more information about Faber-Castell USA, visit FaberCastell.com.
About Learning Express Toys
Learning Express Toys is the nation's leading franchisor of educational toy stores with more than 100 locations across the country - each one locally owned and operated. Providing an extraordinary shopping experience, Learning Express Toys is best known for its knowledgeable and playful sales staff and its unique product mix (birth – age 14). Believing that everyone who walks through the doors should be WOWED, Learning Express Toys focuses on the customer experience. A birthday gift registry, free gift wrapping, free personalization, civic fundraising and regularly scheduled children's events contribute to the exceptional customer service and energetic atmosphere. To learn more about Learning Express Toys, franchise opportunities, or a store near you, visit learningexpress.com.