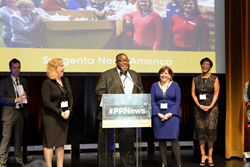 Elevate your workplace with this annual awards program that highlights the firms, corporations, nonprofit and government organizations that inspire communications professionals to come in each day and do great work.
NEW YORK (PRWEB) June 06, 2018
PR News' Top Places to Work Awards program is now open for entry and communications firms and departments of all sizes, worldwide are eligible to enter. Past winners are encouraged to keep their reputation as a Top Place to Work and enter again. The deadline to submit is Friday, June 1 and the late deadline is Friday, June 8.
For more information, visit: https://prnew.se/top-places-18
The winners of the Top Places to Work in PR Awards represent the organizations that truly value their employees. They focus on providing the ideal work environment that make employees feel valued and motivated to do their job the best of their ability. Past winners include MasterCard, General Mills, Ruder Finn, United Nations Foundation, U.S. Green Building Council and more.
The entry process is simple and involves answering questions about an organization's opportunities as far as growth, benefits, compensations, diversity and flexibility. The Top Places to Work in PR Awards is a unique opportunity to showcase your organization and its employee initiatives for recruiting purposes. The winners of this award will be celebrated at an awards dinner in November in New York City.
For more information and to start an entry, visit: https://prnew.se/top-places-18
For questions regarding the Top Places to Work in PR Awards, contact PR News' Awards Coordinator, Mary-Lou French at mfrench@accessintel.com.
The PR News Group is a go-to source that serves the communications and marketing community at corporations, agencies and nonprofits. The PR News Group focuses on honing and growing PR and marketing professionals' skills in social media, crisis management, digital PR, measurement, employee relations, media training, CSR and writing through its flagship newsletter, webinars, conferences, awards programs, workshops and guidebooks. With the launch of its weekly newsletter over 70 years ago, PR News has remained dedicated to supporting the growth of communicators and marketers all while keeping them abreast of the latest news affecting their industries. For more information, visit http://www.prnewsonline.com.
###