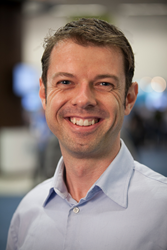 "PPC has been a proving ground for some of the most exciting innovation to hit the marketing industry in decades. We are pioneering some of the most notable advancements in data, artificial intelligence, automation and machine learning." -Frederick Vallaeys, Optmyzer
SAN FRANCISCO (PRWEB) June 06, 2018
For the fifth time in seven years, Optmyzr Co-founding CEO Frederick Vallaeys has been named to the annual PPC Hero "Top 25 Most influential PPC Experts" ranking. The list is developed, in part, by a popular vote among thousands of pay-per-click (PPC) professionals around the world.
This year, Vallaeys is listed in the No. 2 position behind top vote getter Dan Gilbert, founder & CEO of Brainlabs. Vallaeys has been on the list five times since its inception in 2012.
The Top 25 Most Influential PPC Experts list is run through PPC Hero, which is a production of Hanapin Marketing. The selection process includes a normalized scoring process that spans three general categories: traditional influence, social impact, and vote totals. The process takes into account the range of factors to better gauge each individual's actual impact on the PPC industry over the preceding 12 months.
The final list includes a veritable "who's who" of the PPC industry, including executives from top corporations such as Microsoft to up-and-coming startups that are driving deep innovation in pay-per-click practices and technology.
"It's an honor to be named among such an esteemed group of professionals in our industry," Vallaeys noted. "PPC has been a proving ground for some of the most exciting innovation to hit the marketing industry in decades. We are pioneering some of the most notable advancements in data, artificial intelligence, automation and machine learning. This list includes some of the most respected people in our industry - leaders who are reshaping how brands reach customers one-to-one."
"Making the Top 25 list is a true honor in this industry. Winners are those that have made a deep commitment to the education of the PPC community. They are pushing the envelope, trying new strategies, and challenging the status quo and then sharing what they've learned through speaking engagements, blogs, webinars, whitepapers, podcasts, etc. They are major influencers to both their peers and their clients," said Matt Umbro, Associate Director of Search for Hanapin Marketing and Founder of #PPCChat.
Founded in 2013, Optmyzr provides intelligent automation tools to help PPC pros manage critical aspects of PPC programs and campaigns, from creation to optimization to reporting. Vallaeys is a former Google executive and launched Optmyzr with other former senior level Google colleagues. Vallaeys is a regular contributor to Search Engine Land and regularly conducts keynotes and deep dive sessions at major marketing conferences around the world.
More About Optmyzr
Optmyzr's PPC management platform provides intelligent optimization suggestions that help advertisers across the world manage their online advertising more effectively. It includes a full-featured PPC reporting tool that connects with AdWords, Bing, Facebook Ads, Google Analytics, Google Merchant Center and many other data sources through Google Sheets. The company was founded in 2013 by former Google and Microsoft executives, including Google's AdWords Evangelist, Frederick Vallaeys. The Optmyzr PPC suite includes over 30 tools to improve Quality Score, manage bids, find new keywords, A/B test ads, build new campaigns, manage placements, and automate budgets. Optmyzr's excellence in PPC management software was recognized at the 2015 US Search Awards and the 2017 MENA Search Awards. More information is available at http://www.optmyzr.com.