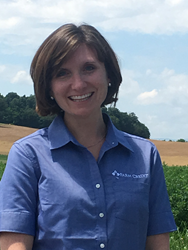 "It's important that legislators, especially those newly elected, understand the challenges and needs of the agricultural producers, and what our rural communities need to remain viable and thriving, and we believe that bringing them together is the best way to do that" - Katie Frazier
STAUNTON, Va. (PRWEB) June 06, 2018
Farm Credit of the Virginias (FCV) is pleased to announce the addition of Katie Frazier to the Farm Credit team. Frazier, the former President of the Virginia Agribusiness Council (VAC), has joined the Farm Credit team as the director of External Affairs. In this role Katie will be interacting with legislators and industry participants to support effective policy development.
"Farm Credit of the Virginias has long recognized and appreciated Katie's knowledge and dedication to agriculture, and we're very pleased to have her on board to continue that important work on behalf of our customers and our communities," said Peery Heldreth, Farm Credit CEO. "She is a well-respected advocate for agriculture and is known for her ability to unite individuals and groups of all backgrounds."
Frazier has served as President of the VAC since 2012, and joined the organization in 2004 as Vice President of Public Affairs. While there, she helped influence the Virginia legislation that created the Agricultural Certainty Program that reduces the regulatory burden for farmers operating in the Chesapeake watershed, which includes approximately half of Virginia's more than 44,000 farm operations.
"It was gratifying to work so hard to help our farmers navigate critical water quality issues, and to help protect them from over-regulation that reduces their efficiency and takes their focus away from producing safe, affordable food for our nation," Frazier said. "I'm looking forward to building on my knowledge and the relationships I've established to help support FCV's goals of supporting agriculture and rural communities within its territory."
In her new role, Frazier will collaborate with ag industry organizations and agencies to develop programs to support farmers, advocate for agriculture on the state and national level, and educate policymakers and consumers about agriculture. This summer, she will be focused on bringing elected officials at both the state and federal level to tour farms across FCV's territory – which encompasses Virginia, West Virginia and part of Maryland – and meet one-on-one with farmers who are also FCV member-borrowers.
"It's important that legislators, especially those newly elected, understand the challenges and needs of the agricultural producers, and what our rural communities need to remain viable and thriving, and we believe that bringing them together is the best way to do that," Frazier said. "By working with legislators as well as other external stakeholders, I'll also be building on FCV's programs and previous successes to ensure that we remain a valuable resource in supporting agriculture and rural communities."
Frazier was raised in Bridgewater, Virginia, where she was active in FFA and developed a drive for a career that supported agriculture. She earned bachelor's degrees in Agricultural Economics and Political Science from Virginia Tech, and joined the VAC upon graduation. She currently serves on the board of directors of the State Fair of Virginia and the Center for Rural Virginia Board of Directors. She has also served on the Virginia Tech College of Agriculture Dean's Council and on the Virginia State University's Ag Advisory Council.