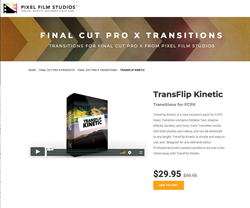 With TransFlip Kinetic, bringing a blast of energy to any FCPX project has been made simple!
ALISO VIEJO, Calif. (PRWEB) June 07, 2018
TransFlip Kinetic is a new transition pack for FCPX. Every Transition contains Editable Text, shadow effects, borders, and more. Each Transition works with both photos and videos, and can be stretched to any length, TransFlip Kinetic is simple and easy to use, and designed for any skill-level editor. Professional kinetic panels transitions are just a few clicks away with TransFlip Kinetic.
TransFlip Kinetic includes over 30 presets for FCPX users to select from. Each preset contains a Motion Blur option for added realism. Transitions are applied to the timeline between clips, and stretched to the appropriate length.
TransFlip Kinetic includes Depth of Field Camera controls, therefore allowing users to create unique looks. All controls in the inspector window are modified easily. FCPX users can modify control panel de-saturation levels, shadows, outlines and more.
TransFlip Kinetic also contains fully editable text, allowing the users to convey messages between shots. In addition to text, TransFlip Kinetic contains simple one shot transitions, and more. These Drop Zones allow the placement of additional media. Preset application is universal, and works with both photos and video.
TransFlip Kinetic is an exclusive Final Cut Pro X Transition from Pixel Film Studios. Users can find TransFlip Kinetic in the transition section of the Final Cut Pro X library. After the transition has been applied to the timeline, all controls are located in the Inspector control panel. Editors can adjust the duration of the transition by selecting its edge and squashing or stretching it.
Established in 2006, Aliso Viejo, California-based Pixel Film Studios is an innovative developer of visual effects tools for the post-production and broadcast community. Their products are integrated with popular non-linear editing and compositing products from Apple FCPX. Apple, the Apple logo, Mac OS X, and Macintosh are registered trademarks of Apple Inc. in the U.S. and/or other countries. All other trademarks and trade names are the property of their respective owners.