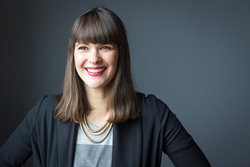 "As a microbiologist and science communicator, I'm very excited by uBiome's incredible potential. Not only are they revolutionizing the way people explore and track their own health, but they are also inspiring them to think differently about the microbial world around us." Dr. Jennifer Gardy, PhD
SAN FRANCISCO (PRWEB) June 05, 2018
uBiome, the leader in microbial genomics, announces the addition of Canadian genomic epidemiologist, Dr. Jennifer Gardy, PhD, to its Scientific Advisory Board. Joining the board of leading scientists and health experts from around the world, Dr. Gardy will bring to uBiome her extensive research experience, particularly in the field of genomic epidemiology. The appointment will help uBiome accelerate its advancement in human microbiome research and further its mission to improve people's lives.
"We are thrilled to welcome Dr. Jennifer Gardy to our Scientific Advisory Board," said Dr. Jessica Richman, PhD, co-founder and CEO of uBiome. "Dr. Gardy's expertise in public health genomics, combined with her background in microbial genomics and bioinformatics, will be an incredible resource for uBiome as we continue to expand our research about the human microbiome, in the context of infectious disease and public health."
Having earned a PhD in microbial genomics and bioinformatics from Simon Fraser University, Dr. Gardy is a Tier 2 Canada Research Chair in public health genomics at the University of British Columbia, where she is an assistant professor at the School of Population and Public Health. Using microbial genomics, phylogenetics, and bioinformatics, her lab specializes in studying the transmission and epidemiology of infectious diseases such as tuberculosis.
About joining uBiome's expert board, Dr. Gardy said, "As a microbiologist and science communicator, I'm very excited by uBiome's incredible potential. Not only are they revolutionizing the way people explore and track their own health, but they are also inspiring them to think differently about the microbial world around us."
On CBC TV, Dr. Gardy hosted an eight-part science series and has appeared on multiple episodes of the long-running documentary show "The Nature of Things." Dr. Gardy contributes to the Daily Planet, Discovery Channel Canada, and recently released a children's book titled "It's Catching! The Infectious World of Germs and Microbes." To learn more about Dr. Gardy visit http://www.spph.ubc.ca/person/jennifer-gardy/
uBiome's technology platform is based on the largest microbial dataset in the world (over 250,000 samples), covered by six issued patents (and over 100 pending applications), and used in over 20 peer-reviewed publications and presentations. This platform has been used by over 200 research institutions around the world, including the US Centers for Disease Control (CDC), US National Institutes of Health (NIH), Harvard University, Stanford University, University of California, San Francisco, University College London, and University of Sydney.
In addition to Dr. Gardy, the uBiome Scientific Advisory Board also includes Dr. Joseph DeRisi (MacArthur Genius and UCSF professor), Dr. Atul Butte (head of the Institute for Computational Health Sciences at UCSF), Dr. Katherine Pollard (Director, Gladstone Institute for Data Science and Biotechnology), Dr. Joel Palefsky (UCSF School of Medicine professor), Dr. George Church (leading geneticist at Harvard University), and other leading scientists. The company's Medical Advisory Board includes Dr. Alan Green (Society for Participatory Medicine), Dr. Leo Treyzon (Cedars-Sinai Medical Center), Dr. Robynne Chutkan (Georgetown University Hospital), Michael Docktor (Boston Children's Hospital), as well as other accomplished clinicians.
_____
About uBiome:
Founded in 2012, uBiome is the world's leading microbial genomics company with a mission to advance the science of the microbiome and make useful products to improve human life. uBiome is funded by Y Combinator, Andreessen Horowitz, and 8VC, as well as other leading investors. Since its launch, the company has received widespread recognition including CNN 10: Startups to Watch, the IVY Technology Award, CNN Future 30, and was named one of Fast Company's Most Innovative Companies in Healthcare in 2016 and in Data Science in 2018.
Media Contact:
Lelle Henrichsen
lelle.henrichsen@ubiome.com