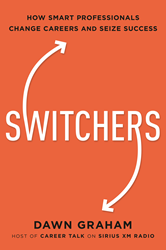 PHILADELPHIA (PRWEB) June 26, 2018
Here's some glum news—only 14 percent of Americans have their dream career. Here's better news—there's now a guide to show them how to make a switch.
New book, "Switchers: How Smart Professionals Change Careers and Seize Success," out today, gives professionals the tools to draw a new roadmap for success—and happiness. The book by career director of the University of Pennsylvania's The Wharton School, psychologist, and popular SiriusXM radio show host Dr. Dawn Graham is available at Amazon and other major booksellers.
Leveraging her experience as a career coach for a top 3 business school, former corporate recruiter, and licensed psychologist, Graham's book is the first written specifically for the career changer that will help readers land their dream job (although its techniques will make any job seeker more effective).
"Switchers" provides a step-by-step guide, chock full of actionable tips and useful tools, that empower readers to figure out their next move and draw a roadmap for how to get there. What's more, it peers into the mind of the job seeker and hirer, revealing what fears may be holding them back from going for a job or choosing a candidate.
Specifically, "Switchers" includes how to:

Understand the concerns of hiring managers—and think like they do.
Craft a resume that catches hiring managers' attention within six seconds.
Spotlight transferable skills that companies covet.
Rebrand oneself—aligning professional identity with new aspirations.
Reach decision-makers by recruiting "ambassadors" from within one's network.
Nail interviews by turning tough questions into an advantage.
Convince skeptical employers to take a chance on a switcher.
Negotiate a competitive compensation package—even as a "newbie" to the field.
"Switchers" has already received rave reviews:
"Changing careers can be stressful. But Dr. Dawn Graham's brilliant new book puts you in control of the process. She provides the proven, research-based strategies that will help you stand out, get noticed, and get hired." —Dorie Clark, Author of Reinventing You and Stand Out, and Adjunct Professor at Duke University's Fuqua School of Business
"Switchers is one of the best career books that I've read in years. Dr. Graham explains the little-known psychology behind the hiring process; she helps demystify the job search process as a whole; and her insights and truly meaningful advice will help career-changing job searchers at all levels!" —David Cooley, Director, Alumni Career Services, and Career Coach at UCLA Anderson School of Management
"A successful career change requires both an internal search and an external search. Switchers is that unique guide that helps you to manage both dimensions. As a psychologist, Dawn can help you overcome internal obstacles and fears of change. As a career coach to business professionals, Dawn also gives you the tools to convince an employer that you are the best person for the job, even if you don't have the experience specified in the written job description." —Roy Young, CEO and Founder of Beyond B-School
"It is rare to find a career book that is both inspiring and practical, but Dr. Dawn Graham has hit the bullseye with Switchers. This is a must-read for anyone who could use the help of step-by-step tools and strategies toward changing their career. Perfect book to give to someone who needs a career switch or is currently experiencing one."—Dr. CK Bray, CEO, Adaption Institute, and Author of Best Job Ever
Find more info about Dawn here and access her press kit here.
About Dawn Graham:
Dr. Dawn Graham, PhD, is one of the nation's leading career coaches. She is the Career Director for the MBA Program for Executives at The Wharton School at the University of Pennsylvania, where she counsels business leaders on making strategic career choices. A licensed psychologist and former corporate recruiter, she hosts SiriusXM Radio's popular weekly call-in show Career Talk on Business Radio 111 and is a regular contributor to Forbes.com.