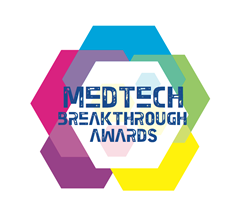 HOUSTON (PRWEB) June 06, 2018
RadiaDyne today announced that its OARtrac® patient dose monitoring platform has been selected as the winner of the "Medical Device Engineering Breakthrough" award from MedTech Breakthrough, an independent organization that recognizes the top companies, technologies and products in the global health and medical technology market today.
The mission of the MedTech Breakthrough Awards is to honor excellence and recognize the innovation, hard work and success in a range of health and medical technology categories, including Robotics, Clinical Administration, Telehealth, Patient Engagement, Electronic Health Records (EHR), mHealth, Medical Devices, Medical Data and many more. This year's program attracted more than 3,000 nominations from over 12 different countries throughout the world.
"Our Medical Device Engineering Breakthrough Award is a coveted award for the MedTech Breakthrough Awards program as it recognizes the standout technology innovation in the medical device space. We are excited to recognize RadiaDyne as the exclusive winner of this award for their first of its kind radiation dose monitoring platform, OARtrac. Congratulations to the RadiaDyne team on their well-deserved industry recognition," said James Johnson, Managing Director, MedTech Breakthrough.
"It is an honor to receive such a prestigious award and to recognize our lead engineering partners who have passionately dedicated a significant portion of their careers to developing this transformational technology which has the potential to lesson unwanted radiation treatment side effects, and forever change how radiation is monitored during cancer treatment," said John Isham, Founder and Chief Executive Officer of RadiaDyne.
About RadiaDyne®
RadiaDyne is a privately held diagnostic and medical device company focused on patient dose monitoring technology to improve cancer treatment outcomes. RadiaDyne designs and innovates specialized sensor technology and medical treatment devices which assist Radiation Oncologists in delivering radiation dose to the cancerous targets, while minimizing damage to the surrounding healthy tissue.
About OARtrac
OARtrac is the first of its kind patient dose monitoring platform which provides gold standard accuracy, real-time pinpoint measurement, and proprietary intracavitary delivery devices to measure radiation dose during radiation treatment for cancer. OARtrac provides critical radiation dose feedback which helps facilitate adaptive radiotherapy with the goal to reduce side effects and offer better clinical outcomes.
About MedTech Breakthrough
The MedTech Breakthrough Awards program, part of the Tech Breakthrough Awards organization, is devoted to honoring excellence in medical and health related technology companies, products and people. The MedTech Breakthrough Awards provide a platform for public recognition around the achievements of breakthrough MedTech companies and products in categories including Patient Engagement, mHealth, Health & Fitness, Clinical Administration, Healthcare IoT, Genomics, Medical Data, Healthcare Cybersecurity and more. For more information visit http://www.MedTechBreakthrough.com.