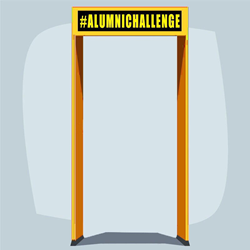 BOCA RATON, Fla. (PRWEB) June 06, 2018
Teddy and Russell Berman, of The Berman Law Group (http://www.thebermanlawgroup.com) are pleased to announce the launch of 'The Alumni Challenge' to help make our nation's schools safer by encouraging successful and charitable alumni to donate walk-thru metal detectors and wands to their schools.
The Challenge will start Tuesday June 5, 2018, last throughout the summer, and end when kids are going back to school. The Berman team is challenging all persons who have achieved a level of success after their public-school education and attendance to help make schools safer by donating metal-detectors and wands. Please visit @alumnichallenge on Instagram and @thealumnichallenge on Facebook to commit to the challenge and hashtag #thealumnichallenge so more people are encouraged to participate. Unfortunately, the wheels of legislation turn, but they turn slow.
"This will be a quicker and more impactful action plan so there is less talk and more action before another tragedy can strike," said Russell Berman, partner at the Berman Law Group. "Aside from having kids, we grew up in the Parkland area and the recent mass shooting has really hit home for us."
Every school has to have alumni who went on to achieve a level of success where they can make this donation to their alma maters. The Berman Team has issued a letter to both the Principal of JP Taravella High School in Coral Springs, Fl and to the Broward County School Board imploring them to accept a donated Metal Detector machine from them and to initiate a clear backpack policy in all Broward Schools, a policy that already exists at major event venues.
Interested participants should do the following:
1) Accept the challenge by sending us a message on social media so we can connect.
2) Send the two letters that we provide you to the school board and school of your choice.
3) Buy the metal detector and snap of photo upon delivery!
4) Post the pic and be sure to hashtag #thealumnichallenge
5) Spread the word!
For additional information, The Berman Law Group will be hosting a press conference:
WHO: The Berman Law Group with Marjorie Stoneman Douglas student survivors.
WHAT: The Alumni Challenge
WHEN: Tuesday, June 5 at 10:30 a.m.
WHERE: 3351 NW Boca Raton Blvd., Boca Raton, FL 33431
WHY: Create Safer Schools
CONTACT: Lynn Aronberg 305-401-9343 lynn@lynnaronberg.com
According to experts, of the 10 deadliest school shootings in the U.S., all but one took place in a town with fewer than 75,000 residents and the vast majority of them were in cities with fewer than 50,000 people. These are seemingly idyllic places to grow up: low crime rates, good schools and a sense of community. And it's exactly these attributes, that are why small rural and suburban towns are a breeding ground for the next school shooting.
ABOUT US: Teddy and Russell Berman are the principal partners at The Berman Law Group, which specializes in personal injury and serves the entire state of Florida with main offices in Boca Raton, Gainesville, Miami, Stuart and satellite offices in Jacksonville, Orlando, St Petersburg, Pensacola, Tampa, Sunrise and Sarasota. The lawyers at The Berman Law Group strive to be one of the very best law firms in all of Florida. The Berman's give to many causes and are Committed to the Community. ®