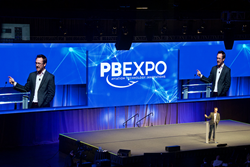 "We were very pleased with the traffic we had in our booth at the PBExpo. The opportunities we had to develop relationships and strengthen existing relationships with other show attendees will provide returns for years to come" said Chris Gress Manager & Business Development Duncan Aviation
BOCA RATON, Fla. (PRWEB) June 06, 2018
PBExpo's inaugural Aviation Technology and Innovations Trade Show exceeded expectations of organizers, exhibitors, and attendees on May 16th and 17th 2018. The event was held at the Broward County Convention Center in Fort Lauderdale, Florida and was filled with networking, education, and entertainment.
PBExpo 2018 opened with a sold out show floor on Wednesday morning and featured 105 exhibiting companies. More than 50% percent of 2018 exhibitor survey respondents indicated that their company has already signed a letter of intent to reserve their priority placement booth location for the 2019 show. Nearly 2,000 aviation industry professionals from 44 states, 13 countries, and 6 continents came together last week to explore the industry's best practices and latest technological innovations for aviation B2B at the inaugural PBExpo. PartsBase, producers of the PBExpo, exceeded goals to successfully produce a live interactive environment that integrated technology and new innovations. Based on this year's successful show and overwhelming positive feedback, PartsBase has already scheduled PBExpo, 2019 in Fort Lauderdale, FL. for March 13-14 2019.
"We were very pleased with the traffic we had in our booth at the PBExpo. The opportunities we had to develop relationships and strengthen existing relationships with other show attendees will provide returns for years to come. The show was both a great new business networking platform and a wonderful opportunity to see long-time industry friends", said Chris Gress Manager & Business Development Duncan Aviation rotable parts and spares.
PBExpo served as a concentrated forum to review, network, & showcase emerging e-commerce technologies and developments in aviation via networking, educational seminars, product demonstrations, and exhibits.
"PartsBase did a fantastic job for a first year conference and their professional treatment of myself and the speakers was inspiring. We are happy we participated & sponsored the show and will be back next year" said VAS Aero Services CEO, Tommy Hughes.
The event's educational track featured 30+ speakers, including four keynote presentations, which addressed trending topics such as: cyber security, disruptive technologies, digital marketing & branding, cloud computing, technology for profit, IT and more.
On the first day of the conference, the President of Partsbase, Greg Schmidt, provided an opening address and noted the company's strong commitment to developing valuable tools for its customers and the industry. "The health and forecast of the aviation market is strong. At PartsBase, we strive to provide tools and data to capitalize on more opportunities and improve efficiency. PBExpo provided a fantastic environment for customer feedback, which is vital to us as we continually explore new technologies to return value to our member base" said Schmidt.
PBExpo welcomed Terry Jones, Travelocity founder & Kayak chairman, as the opening keynote presentation. Jones delivered a powerful & inspirational view on "Disruption and Innovation" and the importance of voicing your ideas. Day two of the expo welcomed keynote speaker Alex Hunter, Former Head of Global Online Virgin Group, who gave a critical perception on building a strong brand and how to build customer loyalty. Thursday provided education on cyber security and business vulnerabilities you should pay close attention to presented by keynote speaker, Chip Crane, IBM Security Technical Specialist North American Leader. Amazon Web Services (AWS) Sr. Manager Global Defense Programs, Mark Fox wrapped the keynote presentations and educated the audience on the efficiencies of commercial cloud computing in the aviation supply chain. During the expo, industry experts delivered presentations that focused on strategies for improving operational efficiencies with technology. This year's program also included two industry expert panels on inventory optimization and digital transformation in the supply chain.
Dedication to growing aviation in the future is critical and a vitally important cause for PartsBase. On Wednesday, May 16, PBExpo collaborated with the South Florida Aviation Maintenance Council (SFAMC) to host the 4th Annual Scholarship awards for Broward College students to recognize the future generation of aviation professionals. Conference attendees and exhibitors celebrated their day one successes with an electric networking event that brought a talented group of Brazilian show dancers and a thunderous drum ensemble.
The conference concluded with the highly anticipated PBExpo Putters Playoff held at the PartsBase booth. The nail-biter of a putting contest took place over the two-day show and Chris Semprun with Axis Global Logistics was the winner of the $5,000.00 cash prize.
The 2019 2nd Annual PBExpo is scheduled for March 13th-14th at the Broward County Convention Center. PBExpo will look to expand the convention center floor.
About PBExpo
Presented by PartsBase, PBExpo is the only interactive environment that integrates the aviation, aerospace, and defense industries with technology and e-commerce solutions. PBExpo consists of multiple forums, over two days, which will allow participants to discuss and demonstrate the newest innovations available in the marketplace, attend educational seminars & panels presented by industry leaders, walk a vast and expansive industry-focused exhibit hall, and provide direct feedback and roadmap suggestions on the PartsBase website. The event is open to all parties who buy, sell, manufacture or repair aircraft parts, or those involved in B2B and B2C ecommerce and technology solutions.
For More Information Visit http://www.pbexpo.org
About PartsBase
PartsBase is the world's leader in internet-based part locator services. Our online community includes more than 7,500 companies and 30,000 end-users in the aviation, defense, and aerospace industries. The service provides the perfect opportunity for suppliers, distributors, and service providers to reach the most targeted audience in the industry.
PartsBase offers complete marketing and digital advertising opportunities to reach aviation and aerospace professionals and enthusiasts while they're in procurement mode. Access to members in all facets of the aviation parts business, including major airlines, FBOs, OEMs, distributors, surplus dealers, brokers, military defense centers, charter operations, and MRO stations. In addition, our online community is continually growing as new members join the PartsBase family of aviation and aerospace professionals each day.
For more information, please visit http://www.PartsBase.com