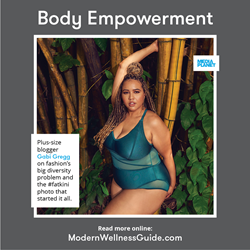 Inclusivity is important because it directly impacts people's self-worth.
NEW YORK (PRWEB) June 08, 2018
Mediaplanet today announces the launch of this June's cross-platform edition of "Body Empowerment." In time for summer, a season when many women feel an increasing pressure to live up to the standards they see in the media, this campaign will encourage women of all kinds to love and celebrate their bodies, just as they are. Additionally, it will highlight the influencers, brands and campaigns that are working towards one message: total female body empowerment for all shapes, sizes and colors!
A study conducted by PLUS Model magazine showed that a size six is now considered "plus size" in the modeling industry; today, the average American woman wears a size 16. Only five percent of women naturally possess the body type often portrayed by Americans in the media, so it's no wonder that approximately 91 percent of American women are unhappy with their bodies and resort to unhealthy habits to achieve what might be an unattainable ideal.
Plus-size fashion blogger and body positivity advocate Gabi Gregg graces the cover of the print publication. Through an exclusive interview with Mediaplanet, she opens up about the importance of body positive role models today. "Inclusivity is important because it directly impacts people's self-worth," she explains. "When you only see certain sizes represented in the media, or are left out of the shopping experience because your size literally doesn't exist in stores, how are you not left feeling less-than?" With summer right around the corner, Gabi recommends focusing on friends rather than fashion. "Go to the beach or pool with a group of supportive, body positive friends," she says, also urging women to find swimwear that matches their street style. "Long gone are the days of being forced to buy matronly floral prints and skirted one pieces. We have so many options now that are fashion-forward and on trend. Your confidence will skyrocket if you're wearing something you love."
The print component of "Body Empowerment" is distributed within Friday's edition of LA Times with a circulation of approximately 455,000 copies and an estimated readership of over forty million. The digital component is distributed nationally through a vast social media strategy and across a network of top news sites and partner outlets. To explore the digital version of the campaign, click here.
Mediaplanet's "Body Empowerment" campaign was made possible with the support of Blogger Gabi Gregg, model Iskra Lawrence, Personal Trainer Kayla Itsines, Internationally Recognized Yoga Teacher Jessamyn Stanley, Just Fab, Kleinfeld, Pinners Conference and many more!
Special thanks to Chantelle Lingerie for their support as they are launching their Soft Stretch One Size underwear line in 1X-4X. This complements their assortment of award-winning Soft Stretch One Size underwear in XS-XL. Chantelle Lingerie is an international design studio and manufacturer of lingerie.
About Mediaplanet
Mediaplanet specializes in the creation of content marketing campaigns covering a variety of industries. We tell meaningful stories that educate our audience and position our clients as solution providers. Our unique ability to pair the right leaders with the right readers, through the right platforms, has made Mediaplanet a global content marketing powerhouse. Our award-winning stories have won the hearts of countless readers while serving as a valuable platform for brands and their missions. Just call us storytellers with a purpose. Please visit http://www.mediaplanet.com for more on who we are and what we do.
Press Contact:
Brenda Choi
Brenda.Choi(at)mediaplanet.com
(646) 518-5423