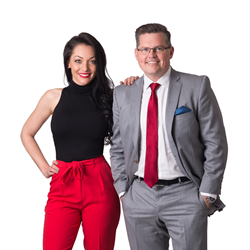 ORLANDO, Fla. (PRWEB) June 06, 2018
Haute Residence welcomes acclaimed real estate professionals, Tiffany Pantozzi and Jesse Rottinghaus, to its invitation-only network. As Haute Residence partners, Tiffany and Jesse represent the high-end real estate markets of Orlando and Winter Park, Florida.
Tiffany and Jesse understand that more wealth is created in real estate than in any other industry. With over 20 years of experience, their team and Stockworth Realty Group closed over $150 million in sales last year, averaging more than four closings a week. They offer a premier level of service, underscored by their principles of professionalism, discretion, creative marketing and dedication to excellence on every deal.
Tiffany and Jesse specialize in selling some of the most unique, exclusive and globally recognized luxury communities such as Golden Oak at Walt Disney World® Resort, The Four Seasons Residences in Orlando and The Ritz-Carlton Residences, Orlando Grande Lakes. With Orlando voted the #1 place to invest in the nation by Forbes Magazine, and with over 72 million visitors annually, Tiffany and Jesse pride themselves on knowing the local neighborhoods, amenities, and market values, and focus on market trends that ultimately lead to lucrative investment opportunities for their clients.
As the preferred referral company for Tavistock Development, Stockworth Realty Group, has the privilege of being the relocation company for Lake Nona's Medical City, the United States Tennis Association and many other major employers across Central Florida.
Consistently ranked in the top 1 percent of all Central Florida agents, Tiffany and Jesse are seasoned professionals. Their reputation as global marketing experts, skillful negotiators, and relentless advocates for their clients, is what differentiates them from the competition.
About Haute Residence:
Designed as a partnership-driven luxury real estate portal, Haute Residence connects its affluent readers with top real estate professionals, while offering the latest in real estate news, showcasing the world's most extraordinary residences on the market and sharing expert advice from its knowledgeable and experienced real estate partners.
The invitation-only luxury real estate network, which partners with just one agent in every market, unites a distinguished collective of leading real estate agents and brokers and highlights the most extravagant properties in leading markets around the globe for affluent buyers, sellers, and real estate enthusiasts.
HauteResidence.com has grown to be the number one news source for million-dollar listings, high-end residential developments, celebrity real estate, and more.
Access all of this information and more by visiting: http://www.hauteresidence.com