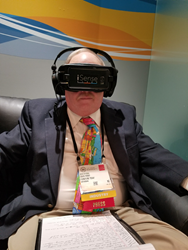 The time is right for Comfort Control™ technology, and forward-thinking retail stores know this.
SPRINGFIELD, Mo. (PRWEB) June 06, 2018
The much-anticipated Comfort Control™ line of mattresses from iSense Sleep began shipping, with the first beds appearing in retails stores just in time for mattress season. The line includes the world's first innerspring and foam mattresses to offer dual zone adjustable firmness support systems. The mattress manufacturer uses a unique Virtual Reality experience to take consumers on a ride through their beds to illustrate both the construction and how the technology works.
When asked about the VR Experience, Don DePaulis, founder of Relax in Comfort out of Orlando said, "It's a totally new customer experience. The entire sales process is energized by the Virtual Reality demo—a powerful sales tool that does an excellent job in both educating and entertaining the customer in their Comfort Control™ technology in all three support systems."
iSense Sleep is a new company on the mattress scene, founded by a 30-year veteran of the industry with the desire solve the most common complaint facing the industry: a customer who isn't happy with their comfort choice. By giving the consumer the ability to adjust their mattress after the sale and coupling it with unparalleled after-sale support, the company is poised to help retailers increase average sales per unit while reducing return rates.
The company is so confident in their technology, they're backing the product with a 120-Night Comfort Promise, saying they will work with consumers to find their perfect comfort level after the sale. If a customer still isn't satisfied, they can return to the store to choose a mattress of equal or greater value.
iSense Sleep founder and CEO, Paul Longman, says of the launch, "The best innovations happen in times of need. Right now, the mattress industry is at a crossroads, and it can choose to spiral further into price wars or brands can elevate themselves and the entire industry through a more robust product offering. The time is right for Comfort Control™ technology, and forward-thinking retail stores know this."