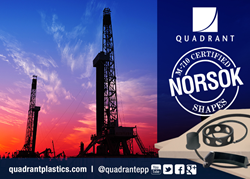 CALGARY, Alberta (PRWEB) June 06, 2018
Quadrant Engineering Plastic Products (EPP), the leading global manufacturer of high-performance thermoplastic materials, will exhibit at the 2018 Global Petroleum Show (GPS) in June and showcase innovative materials for static and dynamic high-temperature and high-pressure (HTHP) applications. GPS is North America's leading energy event, where oil and gas professionals convene to engage in dialogue, create partnerships, and identify the solutions and strategies that will shape the oil and gas industry.
Quadrant EPP is the global leader in engineering plastics used in HTHP oil and gas applications, including seals, shrouds, bushings, bearings, and other rotational wear components. Quadrant EPP's Fluorosint® Enhanced PTFE offers a higher load carry capability and lower coefficient of thermal expansion when compared to PTFE, with 1/9 of the deformation under load. The result of a proprietary process in which synthetically manufactured mica is chemically linked to virgin PTFE, engineers and designers have long recognized the performance benefits of Fluorosint® 500 and 207, as well as the entire Fluorosint® family of materials (HPV, MT-01, and 135).
Fluorosint® 500 is widely used for seals, shrouds, and bearings in some of the world's most sophisticated rotating equipment. Non-abrasive on most mating materials, its coefficient of linear thermal expansion approaches the expansion rate of aluminum and is 1/5 that of virgin PTFE—often eliminating fit and clearance problems.
Fluorosint® 207 is specified for seals, scrapers, and wear surfaces in food processing and production equipment around the world. Unmatched in dimensional stability with excellent creep resistance and a unique white color, Fluorosint® 207 is non-permeable in steam and complies with the FDA's regulation 21 CFR 175.300.
With a longstanding record of success, Quadrant EPP continues to exceed client demands for performance and efficiency gains with engineered polymers in semi-finished products and finished parts. Inspired by the challenges faced by design engineers, Quadrant EPP continuously works to develop new materials and improved processes. Innovation is seen not only as a key driver for growth within the company, but also a core competency—allowing Quadrant EPP to form collaborative partnerships with clients and customers.
Visit Quadrant EPP at the 2018 Global Petroleum Show (booth #1803), June 12-14 at Stampede Park in Calgary, Canada. Application specialists and technical experts will be on-site to answer questions.
About Quadrant Engineering Plastic Products
Quadrant EPP technology is backed by a global team of application development and technical service engineers, specializing in evaluating designs and fabrication techniques. Quadrant EPP materials expertise is available through a worldwide network of branch offices, technical support centers, and authorized dealers. Learn more about Quadrant EPP at http://www.quadrantplastics.com or connect with Quadrant EPP on Facebook, YouTube, and Twitter ("quadrantepp").
Registered trademarks of the Quadrant group of companies: Acetron®, CleanStat®, Duraspin®, Duratron®, Erta®, Ertalyte®, Ertalene®, Ertalon®, Extreme Materials®, Fluorosint®, Ketron®, MC®, Monocast®, Nylatron®, Nylasteel®, Polypenco®, Proteus®, Sanalite®, Semitron®, Techtron®, TIVAR® and Vibratuf®.