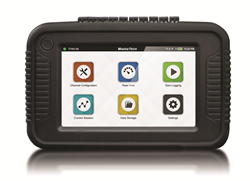 WARREN, N.H. (PRWEB) June 06, 2018
MadgeTech, a leading manufacturer of high precision data loggers, will be among the over 1,000 suppliers and service companies to exhibit at the 2018 Global Petroleum Show. This annual event for the oil and gas industry will be held June 12-14, 2018, at Stampede Park in Calgary, Canada.
The Global Petroleum Show started as a small regional event in 1968. Over the next 30 years, the event evolved into a nationally recognized show with more than 50,000 expected visitors this year. The Global Petroleum Show is a leading source for the latest products and solutions for North America's gas and petroleum industry.
MadgeTech will be at booth #1707 providing hands on demonstrations of several pressure and temperature loggers.
MadgeTech will demonstrate its latest portable data acquisition logger, the Titan S8. Combining industrial toughness with scientific accuracy, the Titan S8 simplifies complex validation tasks with its eight input channels and a full-color, user-friendly touchscreen interface.
MadgeTech will unveil its industry leading data logging tools including the latest pressure and temperature data logger, the PRTemp1000. With a rugged stainless-steel design, the PRTemp1000 can withstand harsh environments including hot water, oil and steam pressure systems. The PRTemp1000 uses a pressure strain gauge to accurately measure the pressure. The device comes standard with a ¼ in NPT fitting, which allows the logger to be connected to almost any pressure adapter.
At this year's show, MadgeTech will also exhibit its submersible temperature data logger, the TCTemp1000. The compact TCTEmp1000 is a battery powered thermocouple-based temperature data logger that has the abili¬ty to record up to 16,383 readings per channel.
Lastly, MadgeTech will display the 3-axis shock recorder, the Ultrashock. The Ultrashock is a battery powered data logger that records temperature, pressure and humidity, while shock is recorded as the peak acceleration levels over the same interval.
These products and more will be available at the MadgeTech booth. Come by to learn more about MadgeTech's industry-leading data loggers, customizable solutions, and user-friendly software.
More information can be found at http://www.madgetech.com/, should you have any questions, please email info@madgetech.com or call (603) 456-2011.