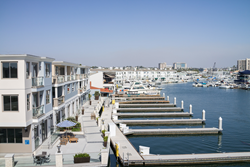 NEWPORT BEACH, Calif. (PRWEB) June 06, 2018
Third Palm Capital, a national real estate investment and development firm, today announced that just eight bayfront residences remain for sale within its VUE enclave, an intimate collection of 27 luxury coastal villas and townhomes on the Newport Beach bayfront just two blocks from the Pacific Ocean.
Represented for sale by the Tim Smith Group of Coldwell Banker, VUE fronts a serene channel along the Newport Bay, and many of its casually elegant villas feature unobstructed bay views. In addition, every VUE flat and townhome spans up to 3,015 square feet and incorporates timeless coastal modern architecture, luxurious master suites, 2-3 bedrooms with 2.5-3.5 baths, gourmet kitchens appointed with chef-inspired appliances, spacious patios, private garages, and spectacular interior finishes including stylish Emser tile, European Poggenpohl cabinetry, modern Rohl fixtures, and more.
Additionally, VUE provides the rare opportunity to own a one-of-a-kind office condo in the heart of the Balboa Peninsula surrounded by an impressive range of high-end residential, specialty retail and dining establishments. Ranging from 615 to 5,678 square feet, the office condos are brand new construction and offer prominent signage opportunities along one of Newport Beach's major thoroughfares. Brought to you by Redwood West, VUE is the first ground-up, for-sale office development in the Newport Beach market in 28 years.
"With just 8 of VUE's harborside homes remaining on the market, it is evident that the community shares our enthusiasm for new, high-quality residences on the Peninsula," said Chris Kelsey, President of Third Palm Capital. "And because VUE also offers the very best in waterfront office space in a world class setting with extraordinary views just steps away from your front door, the opportunity to live and work at VUE provides the best of both worlds."
Whether you are here for work or play, VUE offers something for everyone with exceptional amenities including a fitness center, private in-residence elevators, a dog walk area, and access to paddleboards and other equipment to ensure residents enjoy their new beach and bay lifestyle. Additionally, the VUE Marina provides private docks for boats up to 75' at your doorstep and while a portion of the docks are open to the general public, VUE residents are given first priority.
In a further announcement today, Third Palm Capital shared that two of VUE's exciting new commercial tenants, The Pizza Press and Hamptons Restaurant, will open in the coming months. "We are pleased to welcome two highly anticipated restaurants to VUE Newport," said Kelsey. "Our residents are looking for unique dining experiences with character and atmosphere. With the addition of The Pizza Press and Hamptons, diners will have the opportunity to choose from two very distinct menus and themes while they enjoy some of the most delicious food the area has to offer."
Kelsey said that additional new vendors will be announced shortly. "We are excited to bring these dining concepts and specialty retailers," Kelsey added. "This is an active community of people who love the water and VUE brings them to the water's edge for the best in living, working, dining, boating and retail experiences."
VUE homeowners enjoy a walkable, carefree lifestyle that puts them within easy reach of the best that Newport Beach and the California coast have to offer, including the Newport Beach Pier, the Newport Beach Farmers' Market, Dory Fish Market, modern eateries, acclaimed restaurants, world-class boutiques and the new Lido House Hotel.
In addition, the VUE community also encompasses a promenade for retail and dining offerings.
The current list of tenants at VUE Newport includes, by category:
Culinary
Hamptons – The popular Las Vegas eatery Hamptons will open its second location in Newport Beach in 2019. Hamptons is a new American restaurant that fosters extraordinary dining experiences in a casual, yet sophisticated, setting. With uniquely crafted recipes and dedication to superior service, Hamptons is committed to serving the most delectable flavors for you and your guests to enjoy time and time again. http://www.hamptonslv.com.
The Pizza Press – A unique dining concept dedicated to elevating the 'build your own pizza' model to an experiential level, by creating an immersive 1920s Americana newspaper theme in which great food, craft beer, ambiance, and service are combined. Inspired by the mechanized dough press, The Pizza Press harkens back to an industrialized era when newspapers were the foundation of the local community. http://www.thepizzapress.com. Coming Summer 2018.
Apparel
Beach Bunny Swimwear - With an exceptional brand comes an equally extraordinary shopping experience, one that elicits rave reviews from patrons and press alike. From its first branded boutique in Scottsdale, AZ, to the long-awaited flagship store in Newport Beach, CA, to debuts among the posh fashion houses of Robertson Blvd in Los Angeles, Miami and The Dubai Mall, enter a Beach Bunny boutique and be transported to a seductive multi-million dollar yacht decked in teak woods and contemporary eye candy. Each Beach Bunny swimsuit is sold separately to flatter every figure, promising the perfect curve-hugging fit and reinforcing every client's belief-rightly so-that no two women are created equally. http://www.beachbunnyswimwear.com. Now open.
To tour, VUE, please visit our Sales Center at 2240 Newport Boulevard, Newport Beach, CA 92663. Additional information can be found at the VUE website at http://www.vuenewport.com.