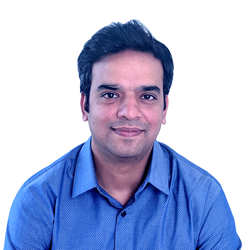 "I look forward to helping Simility achieve new heights while simultaneously working with businesses to protect themselves from fraudsters."
PALO ALTO, Calif. (PRWEB) June 06, 2018
Simility, provider of a machine learning powered adaptive fraud prevention solution, today introduced Anupam Bagri as Director of Sales and Business Development, India and Asia-Pacific. The appointment comes as the company continues to expand its worldwide presence and accelerate global growth. In his role, Bagri will leverage his sales and partnership skills to grow Simility's presence in India and the Asia-Pacific region, and will focus on identifying key industry trends in emerging markets, crafting innovative sales plans and helping Simility build strong relationships with new and existing partners and clients. He will also work with internal stakeholders to push the envelope to further Simility as a leader in the fraud prevention space.
"The threat of fraud is a growing concern, putting the Indian and Asia-Pacific fraud prevention market at the cusp of a massive boom," said Anupam Bagri, Director of Sales and Business Development, India and Asia-Pacific. "The region is ready for Simility, and the company's proven fraud-fighting experience along with the founders' DNA from Google and the dynamic team they have built makes it an extraordinary player in the industry. I look forward to helping Simility achieve new heights while simultaneously working with businesses to protect themselves from fraudsters."
Anupam Bagri is a seasoned sales and business development professional with experience in building a startup from scratch, taking a brand to market, and forging strong business relationships. Prior to Simility, Bagri served as Vice President of Institutional Sales, BFSI (banking, financial services and insurance) at real-time market data and news company, Cogencis Information Services Ltd. An integral member of Cogencis from its inception in 2007, Bagri was instrumental in building and retaining the company's BFSI vertical in India, which accounts for almost seventy percent of its total business and holds a thirty-five percent market share in a subscription model industry dominated by global duopoly of Reuters and Bloomberg.
"As we expand our presence across India and Asia Pacific, it is imperative that we have a seasoned team in place that knows the region and the challenges it faces," said Rahul Pangam, co-founder & CEO, Simility. "Anupam's experience in selling to BFSI and corporate segments in key markets of Indian and Asia-Pacific markets will help Simility deepen its presence in the region, further establishing Simility as the industry's premiere fraud prevention solution."
Founded in 2014, Simility helps companies prevent fraud and abuse in real time with machine learning, big data analytics and data visualization capabilities. For more information, please visit simility.com.
About Simility
Simility provides a cloud-based and on-premise fraud detection software solution that combines the power of machine learning and human analysis. Simility's highly scalable platform protects enterprise clients and SMBs from the most sophisticated types of fraud, and empowers fraud analysts to quickly adapt to fraudsters' evolving tactics—without having to write code. Built "by fraud fighters for fraud fighters," the founding team's combined 27 years of fighting fraud at Google puts them in a uniquely qualified class of fraud detection and prevention experts. Founded in 2014 and headquartered in Palo Alto, Calif., Simility is backed by Accel Partners, Trinity Ventures, and The Valley Fund. For more information, visit simility.com or follow @Simility.