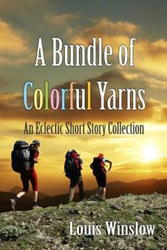 "With the arresting mastery of natural landscapes of Edward Abbey and the nuance of John Carver, author Louis Winslow has managed to produce a stunning collection of textured and compelling stories with 'A Bundle of Colorful Yarns.'" - reviewer, Charles Asher
STILLWATER, Minn. (PRWEB) June 07, 2018
There's something for everyone in Louis Winslow's "A Bundle of Colorful Yarns: An Eclectic Short Story Collection."
"I am now a short story fan! Thank you Louie for your eclectic stories and your range of topics. I appreciated the diversity with fiction and then your nonfiction experiences mingled. I have to say, once I started the read, it was very hard to put it down … where are you taking me on the next story? I especially liked 'Salvation Angel.' " – Karen Hofsted
This new collection of 35 stories represents the author's second book of short stories. A natural-born storyteller, Winslow imbues his characters with honesty, "a trait I hold in high esteem." His stories cover a wide range of topics. While most are action-adventure tales, many feature outdoor themes, and some are nonfiction.
"There are many writers who can paint an entertaining journey, but few who have Louis' special knack and ability to draw us in so deeply, causing us to feel and become a piece of the action. Louis Winslow and his knowledge of the outdoors can turn the simplest of stories into a thrilling adventure." – Donald E. Hughes
Titles point to an unforgettable read and include: "Skull Rock," "Wizard of Oz Freeborn High Reunion," "Evil Monkey," "Hitchhiker," "Dangerous Tango," "The Locked Room," "The Pit," "Cupid Crossed," "Ghost Eyes," "His Evilness," "Assassination," "Alicia's Revenge," "Salvation Angel," and "Pursuit of Trout."
"With the arresting mastery of natural landscapes of Edward Abbey and the nuance of John Carver, author Louis Winslow has managed to produce a stunning collection of textured and compelling stories with 'A Bundle of Colorful Yarns.' Approaching the wilderness and stark beauty of the great outdoors with an almost anthropomorphic immediacy, Mr. Winslow imbues his stories with a grandeur matched only by the inner-wilderness of his characters as they yearn and struggle through everything from the harrowing to the daily … The prose is luminous but sharp, balancing thrill and meditation with perfect pacing and careful attention to detail … that allows a reader to constantly engage, refreshed, from story to story; the collection itself twists and turns dramatically, matching the structure of the narratives within it. A truly breathtaking book." – reviewer Charles Asher
About the Author: Louis Winslow is a retired chemist who took up writing after retirement. He enjoys hiking, hunting, fishing, reading, volunteering, traveling, and writing. He and his wife Carole live in the picturesque Saint Croix Valley in Stillwater, Minnesota. They have three children, eight grandchildren, and a Springer spaniel named Joshua.
"This short story collection runs the gamut for themes and has already received wide praise. We are proud to be the publisher." – Robert Fletcher, CEO of Strategic Book Publishing and Rights Agency
A BUNDLE OF COLORFUL YARNS: AN ECLECTIC SHORT STORY COLLECTION (ISBN: ) is now available for $15.50 and can be ordered through the publisher's website:
http://sbprabooks.com/LouisWinslow or at Amazon.com or Barnesandnoble.com.
WHOLESALERS: This book is distributed by Ingram Books and other wholesale distributors. Contact your representative with the ISBN for purchase. Wholesale purchase for retailers, universities, libraries, and other organizations is also available through the publisher; please email bookorder@sbpra.net.