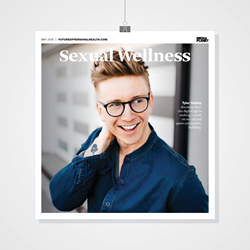 Being able to give people an opportunity to connect in meaningful ways where they couldn't have before can only be a good thing.
NEW YORK (PRWEB) June 08, 2018
Today, Mediaplanet announces the launch of this June's edition of "Sexual Wellness." This campaign will advocate for inclusive and quality sex education, as well as address common sexual problems. The print component of "Sexual Wellness" is distributed within today's edition of USA Today in the New York, Boston, Chicago, D.C./Baltimore, San Francisco, Dallas and New Orleans markets, with a circulation of approximately 250,000 copies and an estimated readership of 750,000. The digital component is distributed nationally, through a vast social media strategy, and across a network of top news sites and partner outlets. To explore the digital version of the campaign, click here.
YouTuber and social media influencer Tyler Oakley graces the cover of the print publication. Through an exclusive interview on the interior, Tyler discusses sex education in the age of the internet and how it has allowed LGBTQ+ youth to have access to the sex education they need. "Being able to give people an opportunity to connect in meaningful ways where they couldn't have before can only be a good thing," says Oakley. Growing up as a young gay person in a small town in Michigan, the internet was an integral part of Oakley's own sexual education. "Being gay, my sexual education never included my kind of intimacy or sex, so I turned to the internet," he recalls. "The difference between what I was Googling in 2000 and what's available now in 2018 is mind-blowing."
"Broad City's" Ilana Glazer also lends her voice to the campaign to promote the importance of sex positivity and discusses how people have responded to her and "Broad City" co-creator Abbi Jacobson's openness when it comes to sexuality. "People interview us, and they'll be like, 'Woah, you ladies are so raunchy,'" says Glazer. "But we don't think of it as raunchy. The way that Abbi and I, as friends, have talked about sex has always been just open and honest." Glazer discusses the importance of young adults feeling sexually empowered and not feeling pressure to fit a specific label. "I definitely think that we are headed toward a place where people don't have to parse out so concretely what they are, when they are," she says. "The next generation of students is already bringing in a huge influence of fluidity in many areas of identity that is really exciting to me."
This campaign was made possible with the support of LA Pride, Planned Parenthood, National Coalition of STD Directors, EverlyWell, Private iDNA, PERIOD. The Menstrual Movement, Fenway Health, Tyler Oakley, Ilana Glazer, Healthy Teen Network, AIDS United, HIV.gov, American College Health Association, American Sexual Health Association, Smiling Dick and The STD Project.
About Mediaplanet
Mediaplanet specializes in the creation of content marketing campaigns covering a variety of industries. We tell meaningful stories that educate our audience and position our clients as solution providers. Our unique ability to pair the right leaders with the right readers, through the right platforms, has made Mediaplanet a global content marketing powerhouse. Our award-winning stories have won the hearts of countless readers while serving as a valuable platform for brands and their missions. Just call us storytellers with a purpose. Please visit http://www.mediaplanet.com for more on who we are and what we do.
Press Contact:
Vanessa Rodriguez
vanessa.rodriguez@mediaplanet.com
(646) 979-2833