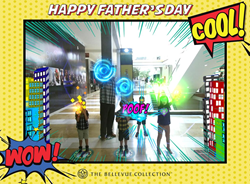 The Bellevue Collection Father's Day AR virtual card adds a unique interaction with technology to our shopping experience while capturing the moment in a downloadable memory that is perfect for social sharing,
BELLEVUE, Wash. (PRWEB) June 06, 2018
Bellevue, WA. (June 5, 2018) What could be more fun than becoming a Super Hero for a day while making a digital Father's Day card with The Bellevue Collection's Augmented Reality (AR) photo opportunity? In collaboration with Seattle based company, Pixelfire, this AR experience offers a fun Father's Day activation. The Bellevue Collection wanted to create an ongoing space for a very unique interaction with technology and looked to the innovative local partner, Pixelfire to make it happen. Since the kick-off of this AR experience with a first-of-its-kind Snowflake Lane AR in December, thousands have made downloadable free digital cards as part of the Collection Plays low tech and high tech complimentary game area.
The AR experience is a Kinect based photo opportunity that superimposes super hero costume elements on guests including masks, chest emblems and action word graphic clouds. Hand movements activate additional motion graphics giving each user a unique "super power." After 60 seconds of fun, a picture is taken automatically and uploaded with a custom digital frame to The Bellevue Collection's website. The photos can be downloaded for free and shared on social media by visiting Collectionplays.com.
The Bellevue Collection has partnered with Pixelfire who produces AR experiences and large format screen motion graphics for The Bellevue Collection's 400 Lincoln Square office tower screens. Since the inception of this concept at The Bellevue Collection, four custom and unique experiences have been developed by Pixelfire including Snowflake Lane, the Snowball Gallery virtual arcade game, Valentine's Day, Lunar New Year and Mother's Day. All photos can be found on Collectionplays.com
About Pixelfire
Pixelfire is a Seattle-based agency that creates and manages motion graphic art, nature and interactive content for public facing screens all across America.
http://www.pixelfire.net
About The Bellevue Collection/Kemper Development Company
Located in the heart of Bellevue, Washington, The Bellevue Collection, owned by Kemper Development Company and affiliates, includes Bellevue Square, a super-regional upscale shopping center, Bellevue Place, a mixed-use property featuring the Hyatt Regency Bellevue and small boutiques and Lincoln Square, anchored by the Lincoln Square Cinemark theaters, restaurants, home furnishing stores and The Westin Bellevue hotel. Currently, it consists of a distinctive collection of 200 of the finest shops, 50 sit-down restaurants, 1,100 luxury hotel rooms and 12,000 free retail parking spaces, all in one location, making The Bellevue Collection a shopping, dining and nightlife and entertainment experience unlike any other in the region. With the expansion of Lincoln Square, The Collection has added a total of 1.5 million sq. ft. including 177,000 sq. ft. restaurants/retail, 710,000 sq. ft. of Class A Premier Office space, the 245-room W Bellevue and 218 luxury high-rise rental residences in Two Lincoln Tower. The Collection is located on Bellevue Way between NE 4th and NE 10th Streets in downtown Bellevue, just across Lake Washington from Seattle.
# # #