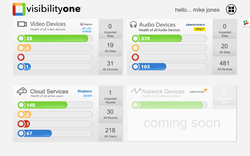 VisibilityOne's patents demonstrate and validate our ongoing ability to develop leading-edge technologies for UC&C.
LAS VEGAS (PRWEB) June 06, 2018
VisibilityOne Corp, the Los Angeles based startup developing the next generation monitoring solution for the Unified Communications (UC) industry, today announced that it has been awarded a second patent by the US Patent and Trademark Office for innovations in its approach to monitoring video conferencing equipment.
VisibilityOne provides enterprises the ability to monitor and manage their entire unified communications and collaboration (UC&C) infrastructure, including video devices, audio headsets, and cloud meeting solutions from one view.
U.S. Patent 9,955,151, describes a method to continuously monitor and diagnose the health of the unified communication and collaboration network and devices using vendor-agnostic diagnostic hardware/software. VisibilityOne replaces siloed monitoring tools with a single view that provides real-time performance and actionable insights into devices, applications and the operating environment. VisibilityOne helps monitor and manage all voice and video on the UCC network, including device usage, firmware updates, real-time status and notifications allowing IT teams to anticipate and resolve device issues before users are impacted.
"VisibilityOne's patents reinforce and protect our innovations," said Jose De La Paz, CEO, VisibilityOne Corp. "They demonstrate and validate VisibilityOne's ongoing ability to develop leading-edge technologies for UC&C."
The company also announced the launch of the highly anticipated beta registration for VisibilityOne at InfoComm 2018 in Las Vegas, NV. VisibilityOne is hosting live demonstrations of the solution at their booth N2732. Early beta registrations are also being accepted online at http://www.visibility.one/beta
About VisibilityOne Corp
VisibilityOne is singularly focused on ensuring flawless communication and collaboration experiences. Headquartered in Los Angeles, CA, VisibilityOne helps enterprises see things differently. Our patented technology replaces siloed monitoring tools with a single view of the entire unified communications and collaboration (UCC) infrastructure providing real-time performance and actionable insights into devices, applications and the operating environment. VisibilityOne's plugin architecture allows users to easily integrate with leading UCC device management, cloud meeting, collaboration and notifications platforms. Learn more at http://www.visibility.one