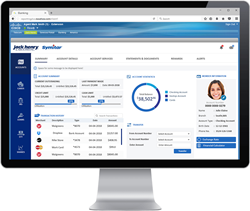 NEW YORK (PRWEB) June 07, 2018
NovelVox, a global Contact Center Software Provider, today announced that it has joined the Symitar® Vendor Integration Program (VIP). Participation in the program will provide NovelVox with access to Symitar's technical resources to enable NovelVox's Finesse Unified Agent Desktops to integrate with Symitar's products including Episys® and Synapsys Member Relationship Management™. The Vendor Integration Program is designed to help ensure that Symitar's customers can easily deploy third-party products.
NovelVox's Cisco Finesse Unified Agent Desktops integrates with Episys, Synapsys Member Relationship Management via SymXchange™, a services-based programming interface that enables third-party vendors and credit unions to access the platform's core data and business rules. The integrity of data is maintained throughout any data exchange, because access to business rules and data is managed through a service layer which governs these interactions.
Within the credit union industry, the member experience is now the battleground to attract and retain ever more demanding members. It is now widely accepted that the member experience is the prime differentiator from one supplier to the next. NovelVox can now deliver integration to products provided by Symitar into a credit union's existing Cisco Contact Center, providing contact center agents with 'a unified single pane glass' view of members that will create a better member experience.
Amit Gandhi, CEO of NovelVox says, "We are extremely happy and excited to integrate Symitar's Episys core and Synapsys member relationship management solution into the Cisco Contact Center Platform. This combined with our existing range of products will provide our customers with even more choices to execute their member experience strategies." Norman Liu, NovelVox's Marketing Director, also agrees with Amit Gandhi and adds, "This VIP membership is very much aligned with NovelVox's ethos to provide our customers with powerful, flexible and feature rich Unified Agent Desktops that our customers have come to expect from us."
Symitar's VIP takes the customer out of the middle, providing vendors with direct access to Symitar's technical resources and test systems. VIP inclusion is not an endorsement of the vendor's product.
About Symitar
Symitar®, a division of Jack Henry & Associates, Inc., is a provider of integrated computer systems for credit unions of all sizes. Symitar has been selected as the primary technology partner by more than 800 credit unions, serving as a single source for integrated, enterprise-wide automation and as a single point of contact and support. Additional information about Symitar is available at http://www.symitar.com.
About Jack Henry & Associates, Inc.
Jack Henry & Associates, Inc.® is a leading provider of technology solutions and payment processing services primarily for the financial services industry. Its solutions serve approximately 9,000 customers nationwide, and are marketed and supported through three primary brands. Jack Henry Banking® supports banks ranging from community banks to multi-billion-dollar institutions with information processing solutions. Symitar® is a leading provider of information processing solutions for credit unions of all sizes. ProfitStars® provides highly specialized products and services that enable financial institutions of every asset size and charter, and diverse corporate entities to mitigate and control risks, optimize revenue and growth opportunities, and contain costs. Additional information is available at http://www.jackhenry.com.
About NovelVox
Established in 2008, NovelVox creates flexible Contact Center Agent Desktops, Wallboards and other contact center applications for customers of all sizes, ranging from Enterprise Organizations to more dynamic customer centric companies. Our products are designed to complement a variety of Contact Center vendors including, Cisco, Avaya and Genesys.
Our mission is to provide our customers with a fully customized agent/ supervisor desktop that will empower contact center agents with the right information at the right time, every time. Happy agents equals happy customers. Visit http://www.novelvox.com for more information.